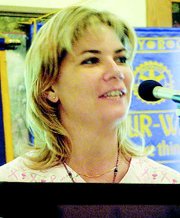 Coleen Goulet made a positive impact on members of the Sunnyside Noon Rotary Club as they lunched at Snipes Mountain Brewing Inc. Monday afternoon.
Goulet, who manages the diagnostic imaging PACS program for the hospital, impressed the group with the expertise she began acquiring as soon as she graduated from Sunnyside High School.
Goulet knew where she wanted to be after graduation, and, after knocking repeatedly on the hospital's door, she said she was let in to begin a career. And it's a career in which she has excelled.
Monday she was wowing club members with information about a Picture Archive and Communication System that allows her and her technicians to x-ray patients and send the results of those tests immediately to the radiologist to be read.
"No more film, no more chemical baths, no more hanging films up to dry and view," Goulet said.
The advantages of the system the hospital has installed are multiple, she said, explaining that the computerized system allows thousands of images to be stored without taking up the space that x-ray films absorbed in the past. But that physical benefit is minor compared to the enhanced images the radiologist and physicians can now access.
"The contrast can be changed and the black and white image even inverted, which sometimes allows tumors to be seen more easily," said Goulet.
"And most reports can be available one to two hours or by the end of the day, as compared to the weeks that physicians sometimes had to wait in the past to receive x-ray results," said Goulet.
If a patient in the emergency room is x-rayed in the middle of the night, the system allows for technicians on duty in Australia, where it is still day-time, to access the system and deliver an opinion, if need be, she said.
"The beauty of our system is that a physician can log in on his lap top from his home or office and view the images on our computer. It gives him easier and quicker access," she said, adding that the system is also a communication tool between hospitals.
"If, say, Harborview (a Seattle hospital) needs to know something about a patient we had here earlier, they can access that information in seconds or minutes," said Goulet.
The PACS program cost the hospital $460,000, and is expected to pay for itself within five years.
In addition to explaining the PACS program, Goulet told the Rotarians the hospital is soon going to be the only hospital in the Lower Valley to have a computer aided detection (CAD) system that searches for breast cancer.
"It's been shown that 23 percent more breast cancers are found at facilities that have CAD than at those who don't," she said.