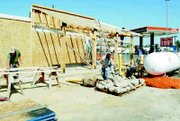 A renovation begun last winter is nearing completion at Bleyhl Farm Service's Sunnyside store at 1720 Eastway Drive.
The remodel is the first significant work on the 6,400 square foot building in about 25 years, said Greg Robertson, Bleyhl general manager.
Robertson said the building opened at the Eastway Drive location in 1976, after the store had been moved from a location on Sixth Street. Previous remodel work at the building included construction in the early 1980's which doubled its size to its current capacity.
Remodeling this time isn't so much about expansion, said Robertson, but modernizing the Sunnyside store.
The store's interior was improved over the winter and work is underway now on its exterior, including a new awning, sign and storefront.
Interior improvements include brand new flooring, ceiling and fixtures. Customers will notice some new arrivals on the store's shelves, as Carhartt clothing will be offered. Also new will be expanded horse riding gear such as bridles and blankets.
Robertson said Bleyhl conducted a demographic survey prior to the remodel.
The result, he added, is new merchandise and design format to complement its farm supplies.
There's also a new name for the Sunnyside store, Bleyhl Country Store.
"We want to portray that we're more than just a farm implement business, that we are open to the public with a more complete line of products used by people," Robertson said.
In other words, while you will find the staples to run a farm, you will also find back yard basics such as bird feeders.
"We're trying to show that you don't have to be a farmer to buy here," said Sunnyside store manager Larry Den Boer.
The remodel not only includes the store's design and inventory, but its warehouse, as well. "We've re-fixtured the warehouse to make it more efficient," said Robertson.
The general public will get to see the Sunnyside Bleyhl store's improvements themselves during a grand opening scheduled for June 2 and 3.
Den Boer said the store will be open 8 a.m. to 5:30 p.m. on Friday, June 2, and 8 a.m. to 1 p.m. on Saturday, June 3.
Robertson indicated there will be in-store specials, a prize drawing for a trip for two to Las Vegas, as well as soft drinks and hot dogs.