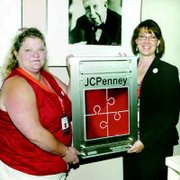 For the sixth time since JC Penney moved to its new location in the Mid-Valley Mall in 1989, the store has been given the JC Penney Chairman's Award.
The award is the company's highest honor for managerial excellence. It is presented to the top performing managers from stores and other divisions of the company. Only the top 15 percent of all store, district, buying unit and divisional managers qualify as Chairman's Award winners, based on results.
"Our solid performance in 2005 was the result of a total team effort and brought us closer to achieving our goal of becoming the preferred shopping choice for middle America," Myron E. Ullman III, Chairman and Chief Executive Officer of JC Penney, said. "These award winning store teams and individual managers demonstrated an extraordinary level of leadership and partnership that is vital to making JC Penney an easy and exciting place to shop and a great place to work."
According to Sunnyside store manager Jonica Bridges, the customer base for the JC Penney in Sunnyside stretches from Goldendale to Mattawa and from Selah to Benton City. "It's a huge geographical area," she said.
There are 22 JC Penney stores in the state of Washington and only four received the Chairman's Award.
"It's a team award and I'm very proud of our team," Bridges said. "We're growing and the more we grow the more we carry."
Bridges added the store has expanded its children's department and its jewelry department.
"We carry double the inventory we used to carry four years ago," she said. "We've grown that much."
Bridges admitted her employees work very hard to make the Sunnyside JC Penney store the best it can be but gave credit to the people who shop there.
"No matter what we do here in the store we couldn't have achieved this award without having great customers."