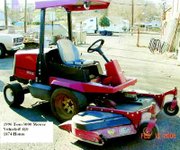 Need a used ambulance? How about a fire truck or lawn mower?
The City of Sunnyside is holding a public auction Saturday, May 20, at 9 a.m. to clear out non-guaranteed, as-is, surplus items.
A preview of the items will be held at 8 a.m. at the City Shop at 1509 South Sixth Street, where the auction will be held.
The sale was scheduled after the Sunnyside City Council authorized the items as surplus, salvageable or for disposal. The city's disclaimer is clear. It's not making any guarantee about any of the item's operational capabilities.
The police department has contributed to the auction eight Ford Crown Victorias-ranging from 1996 to 2003 models-light bars, plastic rear seats, divider/rollbars, a radio, computers and a radar device.
The fire department's surplus includes a 1986 Ford ambulance and a 1964 Ford 850 fire truck.
The wastewater/treatment plant handed off a 1994, 3/4-ton Chevrolet truck, a 1975 Chevrolet sewer video van, a used pump, motors and fittings.
The water department's surplus includes used motors and pumps as well as a 1995 Ford F-350.
The street department will be clearing out a Miller 385 welder, a Sharp copier, a portable asphalt heater, traffic counters, cabinets, a drafting table and three steel tanks, two with 500-gallon capacities and one a 10,000 gallon tank.
The parks department will contribute a 1992 Ford Ranger, a 1999 John Deere lawn mower, a 1996 Toro 3000 lawn mower, a 1984 Dodge custom 150 truck and three push mowers.
The city reserves the right to pre-dispose of any item through transfer or sale to other local public agencies prior to public bid.