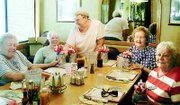 You will be carrying on a tradition of helping U.S. veterans when you accept one of the red poppies that will be offered by the American Legion Auxiliary this Friday.
The women of the auxiliary will get up bright and early to be at three Sunnyside locations by 8 a.m.
They'll take their stand in front of Safeway, Wal-Mart and the Sunnyside Post Office with their hands full of bright red poppies that are hand-made by hospitalized veterans.
The women won't be selling poppies, but will be disappointed if the donation cans they carry along aren't stuffed full of the long-green by day's end.
The money they raise by offering poppies to the public will be used strictly to help U.S. veterans.
"The money goes to help support the men's lounge at Sea-Tac, for a Christmas donation to the American Lake women vets and to provide the coupon books that are given to the veterans at the VA Hospital in Walla Walla so they can get what they want in the gift shop there," said Dorothy Schaneman.
"We have 600 poppies and we want to be able to give them all out on Friday," said Pat Maynard, VFW Auxiliary president, who is in charge of Poppy Day.
"We'll be out from 8 a.m. until we're sold out," said Beverly Ice, one of the members who is supporting the cause on Friday.
There is no limit as to how much can be donated in exchange for one of the veteran-made, crepe paper flowers.