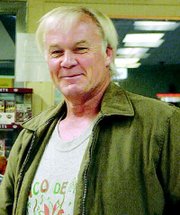 He tasted alcohol the first time when he was 9 years old, trying his mother's homemade wine. Spirits didn't cross his lips again until he was a sophomore in high school and started partying once in a while.
A 19 he started fishing in Alaska.
"And the legal age for drinking was 19 in Alaska. When we'd come off the boat to make a delivery, we'd head for the bar. We worked hard and played hard," said Don Tripp, a 51-year-old retired fishing boat captain and an admitted alcoholic who just finished a 16-month stint in Sunnyside's jail.
Tripp was arrested in the Edmonds area for driving under the influence of alcohol. It was not his first DUI.
"It was my fourth offense. I've been to a couple treatment centers before and looked at all the signs they say to look for to recognize alcoholism. I have 90 percent of those, and I would consider myself an alcoholic. There were parties, barbecues, but I drank because I wanted the buzz," said Tripp.
"I was very fortunate. I never got into an accident when I was drunk. When I drink, I'm a happy drunk, but I make the mistake of getting behind the wheel of a car. There were many times I drove when I was drunk. Only by pure luck did I not get into an accident," he said.
"It's not something I'm proud of," he added.
Depending on one's outlook, Tripp's luck may have held fast with this latest arrest. It introduced him to extended confinement and the loss of personal freedoms, something he isn't anxious to have repeated.
He had seen a day here, three days there, in jail for DUIs, but nothing like the two-year sentence that put him in Sunnyside's jail, which contracts with the City of Edmonds to house its detainees.
"All your freedoms are taken away. No freedom of speech. You're at the mercy of whatever the correction officer's rules and regulations are. You don't have any rights. There are things you can't have in here...normal things sitting in your own home, like marking pens and pens and a razor blade, that you wouldn't think of as contraband," said Tripp.
"When I came in, I thought 'Oh my gawd. This is not what I'm used to'," said Tripp.
"It was totally different, as far as the races go. The majority were Hispanic and I didn't know what to expect...if there were gonna be confrontations or fights. You hear about people getting beat to hell or whatever because of a different racial mix," said the blond, blue-eyed son of a Norwegian mother.
Placed into a pie-shaped pod with 15 other detainees, he said he saw his share of fights.
"It seemed to me a bunch of guys would gang up on one guy because he'd done 'wrong' on the outside," said Tripp.
"One day a guy came to me and asked if he could have some of my food. I said 'you've got a tray', and he told me other inmates were taking his food tray and not letting him eat. I said 'that's not going to happen any more'.
"It was one guy who seemed to be trying to head a gang or something. I told him if they took his tray again, I was going to deal with it. We had a little scuffle. There was a lot of pushing; I threw him around a bit. I only hit him once," said Tripp, who was called out by the correction officers to explain himself.
"I told them the truth, that it was a human rights violation, they were starving the guy and everyone has a right to eat.
"One officer looked at the other and then said, 'It looks like the guy just ran into the wrong old man'," said a grinning Tripp, who turns 52 in July.
"It was a human rights violation. I upheld my values as a human being," Tripp said seriously. "Everyone in the pod voted that guy out out. He was put in another pod," Tripp added.
"It's a whole, different culture shock in here," he said.
"But if you give respect, you get respect. When you are given a job, if you do it the best you know how, you're going to be ok," he said, adding, "I didn't meet one Sunnyside officer that I didn't like. The chief is a pretty witty guy. They are all good guys."
Tripp caught a break two-thirds the way through his sentence-probation, that saw him back at home in Edmonds...until a parole officer charged him with violating the parole, a charge that had nothing to do with alcohol abuse.
On the way back to Sunnyside to finish his sentence, Tripp asked if he could apply to be a trustee, a request that was granted three days after he arrived back in Sunnyside.
He served out the remainder of his time as a trustee, a privilege that put him in a room with only six or eight other trustees and the opportunity to work.
He's built tables, storage drawers and shelves, modified the trustee room with a lunch table and benches, reworked the irrigation sprinkler system, mowed lawns, weeded, pruned raspberry and rose bushes, painted, spackled, worked in the city's parks, moved furniture for city hall, helped out at the Sunnyside Chamber of Commerce, washed a lot of cars and even spent two days as a trustee in Grandview, where he did some clean-up and washed some more cars.
All without pay.
"The pay is just to have the opportunity to do this kind of stuff. If you couldn't keep busy, you'd go crazy," he said.
Tripp was used to a lot of freedom, even as a kid.
His mom, born in Norway and educated in some of the best cooking schools in Europe, believed in raising free spirits. She took Tripp into the kitchen when he was 5 and set about teaching him gourmet cooking, and she encouraged all her sons to take off on bicycling tours, starting when Tripp was only 13.
"A pack of us-my brothers and friends, six or seven of us-would just go. Once we got to a new campground, we'd call home to tell them where we were. We didn't have ID, just a note from mom saying this is so and so and he has permission to go on this bike trip. It was a different time. Parents couldn't let kids do that now," said Tripp.
Married at 20, Tripp found even more freedom when his marriage ended.
"I was pretty much a free spirit then. I pretty much did what I wanted to do, but I always made sure my kids were taken care of, but I couldn't be with them," said Tripp, who worked 10 months out of the year fishing in Alaska, a job that didn't add much cement to a marriage.
"And alcohol definitely did have its effect on the marriage, to say the least," said Tripp.
Looking back on the past 16 months he's spent in jail, Tripp recalls some good times.
He took his culinary skills into the jail's kitchen, making what he and a fellow inmate called their "guest appearances", to whip up cobblers, Swedish pancakes or cinnamon rolls. He says he appreciates the respect that was shown to him by the correction officers and other inmates.
But that free spirited man has a better plan for his immediate future.
His release date is today, and he intends first to see the granddaughter whose birth he attended six months ago. Then he wants to buy an Amtrak pass, load up his mountain bike and head east.
"I've never been farther east than Yellowstone Park, and I'll just stop here and there and ride trails, like the Appalachian Trail and Cumberland Trail, any trail," he said.
But he has another plan too.
"I have to mind my Ps and Qs and be able to recognize my trigger points...to not get too confused and relaxed and think I can have a couple drinks here and there," said Tripp.
"What I'd say to any kid going on the party trail is that you're not thinking that what you're doing is going to make an impact at this point in time, but anything you do with alcohol or drugs will eventually come back to you.
"If you continue to do it on a regular basis, you will end up in a place like this, and it's not a place you want to be," he concluded.
More like this story