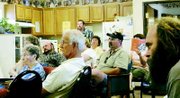 PROSSER - Twenty people gathered in Prosser yesterday to listen to a guy from Spokane tell them how and why a three-pound mass about the size of a cauliflower has brought grief into their families.
Joel Loiacono was talking to people who are dealing with loved ones who have Alzheimer's Disease or some other form of dementia that is killing their brains.
And they learned that Alzheimer's is only one of about 70 different possible causes of dementia, which is an umbrella term for a variety of diseases.
They were also told that Alzheimer's Disease is the most prevalent, accounting for 60 percent of dementia patients.
Dan Waddle of Grandview was at Tuesday's seminar with his two brothers and sister because their mother has recently been diagnosed with dementia.
"And we don't know what is causing it," said Waddle.
The four of them went to Sun Terrace Assisted Living in Prosser yesterday to find out more about this new and unpleasant surprise in their lives.
Loiacono, who is the executive director of the Northwest Alzheimer's Association, said he encourages people to diligently pursue the cause whenever a diagnosis of dementia is made, because there are so many things that can cause it-some reversible and some not.
"Why would you want to know what causes dementia, if it's irreversible," Loiacono asked.
"When you do that, aren't you kind of rearranging deck chairs on the Titanic?" he asked rhetorically.
The answer was no.
Each form of dementia, while perhaps having similar or the same symptoms, can be dealt with in different ways, he pointed out.
And the effects of some forms of dementia can be reversed. Infections, depression, thyroid disease, nutrition deficiencies, dehydration, serious untreated pulmonary or circulation problems and drugs or interaction between drugs can produce some of the same symptoms as irreversible dementia, such as Alzheimers.
But it is important to get a correct diagnosis of Alzheimers, too, Loiacono said, because, contrary to popular belief, Alzheimer's Disease can be diagnosed with 80 to 90 percent accuracy at this time.
It can be diagnosed with 100 percent accuracy only through autopsies.
There are medications available now that can slow down the decline of Alzheimer's Disease, Loiacono said.
"They aren't a cure, but they can be effective, if you define effective as not having mom ask you the same question over and over and over again," said Loiacono.
Loiacono told yesterday's intent listeners that their loved ones were among 4.5 million Americans who have the disease.
"And it's expected that 12 million will have Alzheimer's by 2020," said Loiacono.
He said the disease affects 3 percent of the population who are 65 to 72, 19 percent of those 72-84 and 47 percent of those over 85.
"And the cost is estimated at $100 billion annually," said Loiacono.
Loiacono said anyone who gets a diagnosis of "senility" should questions it because, he said, that is a blanket term that no longer applies in today's medical world. Seeking a second opinion is also an option open to patients or family of patients, an option Loiacono encourages if a definite cause of dementia isn't forthcoming.
At one point, Loiacono flashed two images onto a screen-the normal brain of a 20-year-old and the normal brain of an 80-year-old. They were almost identical.
"So don't be put off by anyone saying 'oh that's dad, he's just getting old'," said Loiacono.
Then he put up an image of a brain eight years into Alzheimer's Disease. It was a third the size of the other two and the damage was apparent.
Loiacono asked his audience to remember that image of a destroyed brain when mom or dad or grandpa tests their patience with their inability to perform as they once did.
Yesterday's seminar, entitled The ABCs of Alzheimer's Disease and Related Dementias, is one of the educational services the Alzheimer's Association offers. In addition, there are books, DVDs, CDs, videos, brochures and booklets available at no cost to caregivers or others who would like to be better informed about this insidious disease that can and does strike people in their 20s and 40s, although less often than the older generation.
A booklet, Maintain Your Brain, is available by calling the Alzheimer Association's 24-hour contact center at 1-800-272-3900. It deals with mental exercise and diet and talks about puzzles, reading and brain games.
"Anything that makes the gray cells work is good," said Loiacono.
He said the 24-hour center is there to offer help around the clock, whether it's someone who needs a brochure or whether it's someone who is calling at 3 in the morning because her husband is insisting on going to work and she needs some advice on what to do.
The seminar in Prosser was co-sponsored by the Alzheimer's Association and Bankers Life and Casualty Company, which specializes in insurance needs of senior citizens and sponsors fund-raisers for the Alzheimer's Association.
F. Joel Thomas of Bankers Life was at the seminar, too. He told how his company helps sponsor a Rita Hayworth gala in Chicago every year to help raise money for research. The actress died of the disease.
Thomas also introduced the group to a fund-raiser that kicks off this weekend. It's called Forget-Me-Not Days. In exchange for a donation, the contributor gets a packet of forget-me-not flower seeds, so seeds of hope can be planted to symbolize the hope that research will bring an end to the disease and also provide support until it does.
Another man, a husband, added his voice to yesterday's seminar during the question and answer period.
"Does Alzheimer's cause them to have problems with their food?" was his poignant question. then added, "My wife can't tell the difference between a potato and an apple. I didn't know this was going to happen."