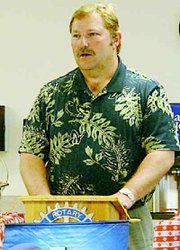 The day of the meter reader for the Sunnyside Public Works Department might be coming to an end.
The city is installing electronic reading devices on all the water meters in town. This electronic chip will read the amount of water used in the household and then send it to billing at the public works department.
"This will cut out the meter reading except for the occasional misread or for customer questions," Jim Bridges, Sunnyside Public Works Director, told the Sunnyside Daybreak Rotary Club Wednesday morning.
"We're doing our best to maintain the city and build appropriately," he added.
Bridges was on hand to speak a bit about what public works will be doing over the summer.
He said Sunnyside's well #11 will be in operation by Aug. 1. "We're waiting on a pump to be delivered," he said. The well was drilled last year and contains no methane gas or hydrogen sulfide. The hydrogen sulfide gives the water a rotten egg smell.
When the well is in operation it will produce an extra 800 gallons of water per minute for the city to use.
Bridges spoke briefly about the roundabout that will be built at the intersection of South Hill Road and South First Street.
He said some people wanted the city to put a light in at the intersection but after a detailed analysis of the situation, it was decided a roundabout would be better.
"A traffic light will take you a minimum of 30 seconds to get through," he said. "The roundabout will take a minimum of three to five seconds."
He told the Rotarians the plans for the roundabout are complete and the city is waiting for the right of way process to run its course. Bridges said he is hoping for a September start time, which should allow workers to finish by May 2007.
"It will be the largest single-lane roundabout in the state of Washington," Bridges said. "It will be 150 feet across."
Bridges also reminded the Rotarians of the new skate park being planned for Sunnyview Park. There will be a meeting Wednesday, May 17, at 5 p.m. in the Sunnyside Community Center to discuss the skate park. The designers of the park will be on hand to receive input and answer questions from skaters and community residents who will be using the park. Bridges said the city has $61,000 to spend on equipment and the installation. He added the park should be completed sometime in mid-June.
"It's going to be a good facility," he said.