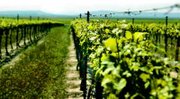 ALDERDALE - Although McKinley Springs Winery has been open since Feb. 3, a grand opening will be held Saturday, May 20, at 1201 Alderdale Rd., between Mabton and Alderdale, to officially open the winery to the public.
The Andrews family started growing grapes in 1980 and have and continue to supply area wineries with their grapes. Bottles of wine marked with the Andrews Horse Heaven Ranch or McKinley Springs Vineyard have the Andrew's sweet nectar in them.
The family team that runs and operates the winery and tasting room are Rob Andrews and his wife Angela, Rob's brother Scott Andrews and his wife Dana, Rob and Scott's sister Sandy and her husband Doug Rowell, Scott Andrew's son Dan and his wife Heidi, and Rob's daughter Trisha and her husband Daryl Rutherford.
"It's a big family venture," Rob Andrews said.
Although the Andrews clan started out with Cabernet Sauvignon grapes, they now grow 19 different varieties on 1,000 acres to supply grapes to area wineries, said Rob Andrews.
They started producing wine in 2002 and began construction on the winery and tasting room in fall 2004. By the fall of 2005 the building was finished and they opened the tasting room in February.
For their big grand opening bash, wine tasting will begin at 10 a.m. and hors d'oeuvres will be served. At noon, live music will commence and a complementary barbecue will be served.
McKinley Springs Winery has started slow but according to Rob Andrews, things are going great.
"We started out with 600 cases with our first vintage in 2002, in 2003 and 2004 we had 1,500 cases and we expect between 2,500 and 3,000 cases in 2006," he said.
Three thousand cases a year would be about their capacity, he added.
For directions on how to get to the winery call 509-894-4528 or visit their website at www.mckinleysprings.com.