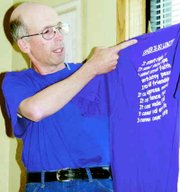 Ken Ruppert has beaten cancer not once, but twice.
"I'm thankful I'm alive today," he told members of the Sunnyside Kiwanis Club Wednesday morning.
But Ruppert wasn't at the meeting to recount his battles against cancer, but the nationwide battle against cancer through research funding.
The drive for cancer research takes center stage in Grandview this coming weekend, as Ruppert discussed the Relay for Life set for this Saturday and Sunday.
Ruppert told club members his second win over cancer was due to improved treatment, which, in turn, was due to advanced research.
And advancing the cause of cancer research is what the Relay for Life is all about, he said.
Ruppert described how through corporate funding and individual pledges, teams participating in the Relay for Life pledge to have at least one member on the Grandview track during a 24-hour period.
Last year's Relay for Life raised just under $100,000 and the goal this year is to reach $125,000 for cancer research. Ruppert said that 80 percent of all proceeds go directly to cancer research, with 20 percent designated for administrative and patient services.
Ruppert said one of the highlights for him during each year's relay is the emotional survivors lap which kicks off the relay.
Another is a ring of luminaries, candle-lit bags, that line the Grandview track on Saturday evening. The luminaries can be purchased and decorated in honor of a loved one who died from cancer or beat the disease.
The bags cost $10 each and all proceeds-$12,000 was raised last year through the luminaries-go to cancer research.
Ruppert's presentation on Relay for Life led to Kiwanis members themselves taking action. At the conclusion of their meeting, Kiwanians chipped in to purchase a luminary for one of their members now fighting cancer.