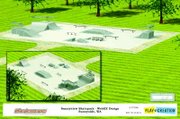 Half pipes and hips, fun boxes and bank to banks are all part of the skater's lingo.
And in Sunnyside they are all part of the new Sunnyview Skate Park.
An open house to design the park drew 14 skate boarders yesterday to Sunnyside's Community Center.
John Mullan of Seattle-based Play*Creation provided skate park templates to get the skating teens started.
With a remote, wireless connection a Play*Creation consultant working in Minnesota was able to instantly change the template on the screen to reflect input from the local skaters.
The result was what skater Avril Martinez called "exciting."
Added fellow skater Scott Snyder, "You can expect a lot of people to come here to use this."
For Martinez, the city's interest in her peer's input was especially meaningful.
"This is the first time it's happened to any of us," she said of their opinion being sought by adults. "It's nice to see the city take us seriously."
Skater Travis Nash, who drew free-hand designs that contributed to the final design of the skate park, said the primary elements he and other skaters sought-and received-for the park were bank to banks, essentially two quarter-pipe ramps placed back to back, and a hip, or ramp extension.
In addition, input from the skaters resulted in the addition of a picnic table, an element that resembles a picnic table but is used for skate boarding.
The next step is for the skaters' vision to go from the drawing board to reality. That will happen as early as this June, noted Jim Bridges, Sunnyside's public works director, when the skate park is expected to be complete.