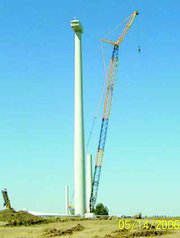 BICKLETON - Energy is blowing in the wind near Bickleton as skyscraper-like turbines are now being erected.
Known as the Big Horn Wind Project, the turbines are being erected about four miles south of Bickleton by PPM Energy of Portland, Ore.
Curt Dreyer, a planning director for Klickitat County, confirmed that construction has actually been in progress since this past winter.
"They were working all winter constructing the bases and the foundations (of the wind turbines)," said Dreyer.
Work on raising the turbines-which stand 374 feet tall, including the tower and blades-started this month, noted PPM spokesperson Jan Johnson. The combined diameter of two blades on a tower are bigger than the wingspan of a jumbo jet, she said.
"The community will notice trucks going through with turbines until (this) August," Johnson said. "We appreciate the community's patience."
Johnson said that PPM's contractors are addressing dust control during turbine construction. She added that PPM will continue maintenance on a dirt road out to the work site.
PPM will install 133 turbines at Big Horn, which will produce 200 megawatts of energy-enough to power 60,000 homes, said Johnson.
The energy produced at Big Horn will be sold to a California consortium known as MSR that will direct the power to serve the cities of Modesto, Santa Clara and Redding.
Johnson said PPM anticipates completing construction at Big Horn by this August, and selling energy to MSR by this fall. It is anticipated 100 construction workers will be needed to build Big Horn and 10 to 15 permanent employees will be hired.
PPM received permitting for Big Horn last year from Klickitat County. As part of that process, PPM had to set aside some of its 20,000 acres as bird habitat. PPM also had to address potential impacts on views and from Big Horn's lighting system.
Big Horn is just the latest in a building spree of sorts for PPM. The company recently completed construction of a wind project near Wasco, Ore.
And Big Horn won't be PPM's last venture into this state.
"We're definitely interested in Washington state as a source for wind power development," said Johnson. "Customer demand is extremely high for clean, renewable energy."