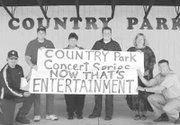 GRANDVIEW - Raising public awareness about Grandview's Country Park Amphitheater resulted in the formation of the first ever Country Park Concert Series, set to begin May 23.
"Country Park is a fantastically under used facility," said Lynda Jo Gross, director for the Grandview Chamber of Commerce. "Here we've got this premier amphitheater and beautifully maintained grounds with a food court and yet few people seem to be aware that it can be rented."
Last year the Grandview City Council appointed a task force to look into raising the amphitheater's profile.
That led to the formation of a series of four concerts that organizers call "family friendly."
Gross said the music series became reality because four different community organizations agreed to each host a free concert. "We won't charge at the gate, but we'll merrily accept donations," she quipped.
All concerts/festivities will be held out at the Country Park Amphitheater at 812 Wallace Way in Grandview.
Food will be available for all four concerts by the respective non-profit organizations who are hosting that night's event.
Concert attendees are encouraged to bring their own lawn chairs or a blanket, said Gross.
The first concert is Tuesday, May 23, at 5:30 p.m. and is sponsored by the Grandview Ministerial Association. Featured music that night will be by the Mabton Grace Brethren Choir, Joddi Jay Babcock, Cat Turley and the Columbia Connection. The ministerial association will offer hamburgers on sale that same evening.
The second concert is Tuesday, May 30, at 5 p.m. and will feature the Grandview High School bands. At 6 p.m. that same evening Jonathan Kingham of Seattle will perform. That night's concert is sponsored by YVCC Grandview and the Grandview Chamber of Commerce, which will be offering hot dogs and burgers for sale.
The third concert is Tuesday, June 6, and sponsored by Grandview Kiwanis Club. Gates will open at 6 p.m. with a concert featuring folk singer Dan Maher to begin at 6:30 p.m. The Grandview Kiwanis will offer a barbecue salmon dinner that evening.
The fourth and final concert will be sponsored by Grandview Rotary Club on Tuesday, June 13. Featured artist will be Top Strings at 7 p.m., with gates to open at 6 p.m. The Grandview Rotary Club will offer hot dogs and strawberry shortcake for sale that evening.