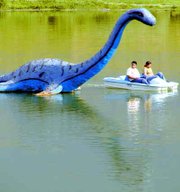 GRANGER - Fun and games were all part of Granger's second annual Community Appreciation Day, held yesterday at Hisey Park.
Held by city officials as a way to welcome and thank Granger residents for their support, the Community Appreciation Day also provides a reminder of the city's claim to fame as a place "where dinosaurs roam."
Whether it was a sort of Loch Ness creature hovering over boaters in Hisey Lake, or a wide-eyed dino greeting visitors to the park, most of the city's 24 dinosaur statues were on full display.
The Community Appreciation event included discounted prices on hot dogs, chips and soft drinks and free paddle boat and bike rides.
In addition to door prizes, Granger residents also had a chance to win free prizes through contests such as a spin the wheel game and a bag toss.
The dinosaur-related fun in Granger continues in June when the city's 25th creature is expected to take up residence.