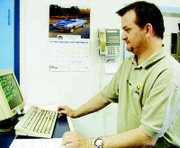 GRANDVIEW - Working in one place for five consecutive years may not seem like a lot of time to the average joe, but to Mike Hubbard it means he's found his niche.
"I feel good about this place. It's the longest stint I've stayed for a dealership and it's because of Rick McLean, the owner," said Hubbard, who is service manager at Mid Valley Chrysler Dodge Jeep in Grandview.
Hubbard's work trail had a winding path before he ended in Grandview.
"I've always been in the service industry, starting with the Army as a mechanic working on Jeeps and 2 1/2- or 5-ton trucks," said Hubbard, who spent two and a half years at Fort Lewis, honing the skills he took with him when he was discharged.
Hawaiian born and bred, Hubbard returned to the islands with a wife and two children and tried to integrate his family with his parents' life in their home...while looking for a job that would make him independent.
"I sold cars and retreaded tires, when we were still doing that, and continued to look for work and never did find anything. And two families in one home didn't work," said Hubbard.
"One day I came home and said I think it's time to just up and go back to Washington," he said.
The Sears store in Aberdeen took him on as a service writer, which is what the friendly fellow who helps you figure out your car's need at your favorite automobile service desk is called.
"Then I saw they were looking for service manager trainees at K-Mart Automotive Center in Olympia," said Hubbard, who was quickly invited to join the program. After several months of training, they gave him his own store in Moses Lake, which led to a promotion to a larger store in Kennewick.
Hubbard was there about a year when the general manager at Mid Valley gave him a ring and told him there was an opening in Grandview for a service manager and suggested he apply for it.
"I said 'Are you nuts?'. That's 40 minutes from my home'," said Hubbard, who was enjoying the home he and wife Tina had purchased in Kennewick.
"But I came over and interviewed, and I was so impressed with Rick that two weeks later, I was on the job here in Grandview," said Hubbard.
He said that McLean's business policy meshes well with his own.
"He's honest. He's fair, and he treats people the way they need to be treated, want to be treated. It makes it nice," said Hubbard, explaining that stress just doesn't enter into the picture when boss and employee think alike.
Hubbard says his duties vary every day.
"It's an ever-changing world back here (in the service department). If we have a lot of customers and the phone is ringing off the hook, I'm right here, checking in the customers," he said, motioning to the counter and computer that is the work station for himself and Nathan Sisk, assistant service manager.
"If it's quiet, not too many customers, I force myself to do paper work," said Hubbard, explaining that a lot of paper is generated as he handles warranty work, advertising for the service and parts department and deals with the department's budget and personnel.
There are 11 employees in the service department, in addition to Hubbard, who says his right hand man is a woman, Betty Crabtree, who is warranty administrator and cashier. In addition to her and Sisk, Hubbard has nine employees in his department-two parts men, six automotive technicians and a detail man, who shuttles customers if they need transportation to get their vehicles serviced, makes runs to pick up parts and also makes sure that every vehicle that comes in for service gets washed so that it leaves sparkling clean.
In his free time, Hubbard might be caught umpiring a baseball game in Kennewick, where he also has coached kids baseball for 10 years and still lives in the house he, Tina and the five kids don't want to give up.
Or Hubbard might even be found burying a pig in his back yard.
Yep, the Hawaiian born guy knows how to turn out luau fare and even does a mean hula, when the Hawaiian club meets once a year to exchange tales of their home island, listen to a little music and "eat, eat, eat", he said.
Once he even dug several big cooking pits in his back yard to help a friend who had the job of putting on a picnic for 900 people from a Hanford company.
"In Hawaii, you help your fellow man out," said Hubbard, who didn't bat an eye when he saw his buddy needed help with his energetic project.
"We had three good sized pits dug in my yard and cooked pork, turkey and beef. Someone asked me later how much money I'd gotten paid. I told him you don't get paid for helping a friend," said Hubbard. "I don't know if that's the Hawaiian way or if it was my family's way, but that's the way it is."
He said he gets enjoyment out of helping the people who bring their cars into Mid Valley, whether it's for maintenance or some major work. "You want to get them back on the road in good shape," he said.
"I'm a people person. I like talking with people, dealing with people. You get people who are appreciative of what you do for them," Hubbard said. "I tell my guys 'treat the customers like they're your grandma' because people usually treat their grandmothers pretty good.