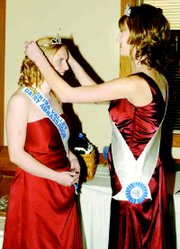 Natasha Daniel has been living on a dairy for 11 years now. At school, she says, people who aren't involved with the dairies in the area usually make fun of them or complain about them.
"That's why I wanted to become the Yakima Valley Dairy Ambassador," she said. "I want to let people know how much the dairy industry helps people and the economy."
The 17-year-old junior at Sunnyside High School got her wish and was crowned the 2006-07 Yakima Valley Dairy Ambassador Thursday night in a ceremony held at Snipes Mountain restaurant.
The State Dairy Ambassador Scholarship program is in its 51st year and the program has been held locally for the last 49 years. The program is sponsored by the Yakima Valley Dairy Women.
"Our purpose is to promote the dairy industry and the princess helps us to do that," Carol van Slageren, president of the Yakima Valley Dairy Women, said. "Natasha will receive a $1,000 scholarship and a clothing allowance. She will be attending many local functions and will get to go to all the WIAA State tournaments."
Daniel was the only contestant in this year's program but she still had to go through all of the procedures. The requirements for contestants are their family must be involved in the dairy industry or they can raise a dairy heifer for two years, showing or selling them. They must also be between the ages of 17 and 23.
Daniel had to be interviewed and gave a speech to some selected judges from the Yakima Valley Dairy Women.
The 2005-06 Dairy Ambassador, Desiree Pritchett, was not on hand.
"She did a wonderful job but was unable to finish out her term," van Slageren said.
The State Dairy Ambassador, Megan Warner, was on hand to crown Daniel.
"I'm so excited," Daniel said of being named Yakima Valley Dairy Princess. "I'm really excited to start the school tours because I want to be a teacher. I volunteer at Outlook Elementary School so I'm really familiar with being around kids, talking to them and connecting with them."
Besides looking forward to the school tours, Daniel is excited about being involved with the WIAA State tournaments for high school sports.
"I love watching sporting events," she said. "Being able to give the awards to the top teams will be exciting."
Daniel is also involved with the Key Club at Sunnyside High School and participates in Young Life, a church group that is non-denominational. She regretfully admits she hasn't had a lot of time lately for Young Life. "It's been pretty busy on the dairy," she explains.
She'll be even busier now as she represents the Yakima Valley. So what is the biggest thing she would like to accomplish in her year as the new Yakima Valley Dairy Ambassador?
"I want to inform as many people as possible about the dairy industry."