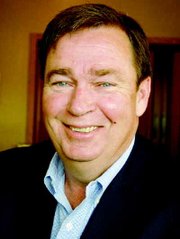 Rand Elliott came to Sunnyside this morning to bring his message to the Sunnyside Republican Club as to why he wants to fill the seat of Yakima county commissioner from the 3rd District.
"Like many of you, I have been disturbed over the last several years, disturbed by decisions that have been made, disturbed by the course our county appears to be taking," Elliott told the group.
Elliott said it is his "general unhappiness with the condition we find ourselves in" that prompted him to seek election.
A former Lower Valley apple orchardist and current grower of Concord grapes on a small vineyard in East Valley, he said he believes the job of a commissioner is a full-time one.
"The commissioners have to step up and take absolute control of the county again," he said, adding that the job requires "sound business judgment."
He said that he believes his background gives him some experience to provide that.
He cited several business ventures that lent him the experience.
He said he and his father, Jim, ran the Holiday Inn in Yakima for 28 years. When they sold it in 1998, they opened a small financial services company.
"Several years ago, I owned and operated an apple orchard in the Lower Valley, which was eventually sold. But, as every farmer in the room knows, farming is more than a job. It's a lifestyle, and it's a lifestyle I enjoy. So about eight years ago I bought a small vineyard in East Valley," he said.
Because he believes that the Valley is farm country and has provided that kind of lifestyle over the years, he said he strongly supports the Right to Farm Act, which protects farmers from encroaching lifestyles that might object to the booming of a cherry gun that wards off voracious birds, but could disturb new neighbors.
He pointed out that one cherry farmer, a former apple grower, was taken to court by a neighbor objecting to just that bird control device.
"And he lost!," said Elliott, who said that he and others were encouraging the grower to appeal the decision of the judge, who ruled that the farmer had changed his crop from apples to cherries so the Right to Farm Act did not apply to the case.
"But farmers shouldn't be required to grow the same crop year after year and never change," said Elliott.
He said crime is also an issue with him.
He said there needs to be "a little more teeth" in the law, so that juveniles receive punishment for their minor crimes, such as graffiti and breaking into vehicles, to deter them from graduating to more serious crimes.
He said he understands there is a discussion ongoing among legislators in Olympia and he would support legislation that would "give us the power to punish these kids," adding, "I think every kid is entitled to a mistake but at some point we have to be able to punish repeated behavior."
Elliott said he believes "it is the job of elected officials to help people succeed, but not to promise to guarantee their success and I believe that business, especially small business, is the foundation of our valley and should be supported."
In conclusion, he said, "And I believe in small government and low taxes. Let me say that again. I believe in small government and low taxes."
In addition to farming, he is a general partner for Premium Financial Services, and for the past 12 years has served on the Board of Directors of AmericanWest Bank.