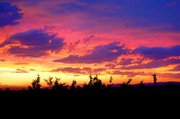 Sustained winds of up to 35 mph in the Lower Valley yesterday afternoon resulted in 1,441 Pacific Power and Light customers in the Granger area losing electrical service for more than two hours. Numerous Sunnyside area residents also lost power for much shorter periods of time.
Deston Nokes, a spokesperson for PP&L, said the power outage began at 5:25 and ended at 8 p.m.
The culprit was a blown fuse in PP&L's substation, said Nokes. He said the fuse likely failed because a tree touched a power line during the storm.
Yesterday's wind was accompanied by thunder and lightning and, in some areas, blowing dust.
Jim Smith of the National Weather Service station in Pendleton, Ore. said the system seemed to bring the wind up abruptly, and that the storm passed just as quickly.