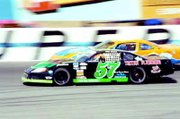 YAKIMA - The best Northwest late model racers will get together Saturday, May 20, at the Yakima Speedway for the Wix Filters 100.
The traveling Late Model Challenge Series returns to the Valley after a two-year hiatus. More than 40 cars are expected to challenge for the title.
Yakima Speedway last hosted the series in July 2004. The last three events at the speedway have been large. Out of the more than 40 cars expected, only 26 will make it to the start of the 100-lap main event.
The top 20 qualifiers will be locked into the main with two provisional positions available for those with points from last season. The remaining four starting spots will be filled by the top four finishers in the Last Chance Main.
The Late Model Challenge Series is in its seventh year and drivers representing the states of Oregon, Washington, Montana, North Carolina and Canada are pre-registered for the race.
Local Drivers considered to be favorites are Jason Jefferson (Naches), B.J. Tidrick (Yakima), Erick Hargraves (Selah), Jarrod Crum (Kennewick), Lon Werremeyer (Yakima) and Ron Bemis (Yakima).
In addition to the main race, the Yakima Speedway's street stocks and hobby stocks will be featured. Practice for all classes begins at 2 p.m. The qualifying session begins at 5 p.m. with the racing getting underway at 6:30 p.m. The front gates will open at 4:30 p.m.
Tickets are available at the speedway's office. The number there is 509-248-0647. Tickets can also be purchased on race day at the front gate.
More like this story