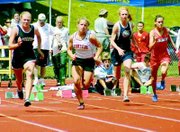 RICHLAND - Senior Christy Linde advanced to the State 3A track and field meet for Sunnyside in both the 100 and 300 hurdles during the Regional meet held this past weekend.
Linde was second in the 100 hurdles with a time of 15.46, coming in just behind Ellensburg's Kayla Standish, who won the event in a time of 15.15.
In the 300 hurdles, Linde again punched her ticket to State with a second-place time of 47.04. Ellensburg's Robyn Robblee won the event in 46.33.
Linde nearly advanced to State in a third event, placing fourth in the triple jump with a mark of 35-3. Standish grabbed the third and final State berth in the event by less than a foot over Linde with a jump of 36-0.25.
The Lady Grizzlies had other near misses, as Fatima Ruelas ran a fourth-place time of 1:02.62 in the 400 meters, just off the third-place State qualifying mark of 1:00.37 set by Cheney's Crystal Simmons.
In the girls javelin, Sunnyside's Carly Dahlstrom missed out on State by just over a foot with a fourth-place mark of 112-7. Sunnyside Coach Robin Bryson said Dahlstrom was actually in third place heading into the finals of the event before she was overtaken.
Teammate Claire Schilperoort was fifth in the same event with a throw of 108-0. The third and final javelin State bid went to Pam Eatock of East Valley (Spokane), who recorded a throw of 113-8.
Another Lady Grizzly who came close to a State berth was Jordyne Jaquish. She ended in a four-way tie for the third and final spot to State with a mark of 5-2.
In a sudden-death jump off to decide the State bid, Jaquish advanced to be one of two athletes remaining, before she was eliminated by West Valley's Cassie Fischer.
In other Regional marks, Teresa Ramos placed for Sunnyside with a seventh-place time of 5:39.99 in the 1,600. Lisa Olander of West Valley won the event in 5:09.08.
Jaquish scored for Sunnyside with an eighth-place time of 27.97 in the 200. Teammate Yanet Candido overcame a one hour delay due to a thunderstorm to place seventh in the 3,200 with a time of 12:07.93. North Central's Mary Graesser won the event in 11:15.82.
In the discus, Schilperoort was fifth with a mark of 109-6 and teammate Maria Ramirez placed eighth with a throw of 93-3. North Central's Ashlee Michelson won the event with a mark of 130-2.
Sara Kilian also tallied a point for Sunnyside with an eighth-place throw of 32 feet in the shotput.
Bryson was pleased with the Sunnyside girls' overall performance, noting that as a team the Lady Grizzlies placed fifth out of 12 teams competing at Regionals. The girls were also the second highest finishing team out of the Mid-Valley League, behind only West Valley.
In boys competition, Sunnyside may not have sent anyone to State, but the Grizzlies did have two athletes place at Regionals.
Sunnyside's Andrew Gonzales was eighth in the 1,600, recording a time of 4:44.83. The event was won by Chris Glaser of West Valley in a time of 4:28.24.
Gonzales, only a freshman, was also sixth in the 3,200 with a personal best time of 9:55.04.
In the pole vault, Michael Graham was fifth for the Grizzlies with a mark of 12-6. Graham finished just a foot out of the running for third place and a State berth, which was earned by North Central's Steve Kerr with a mark of 13-6.
Though Sunnyside advanced only one athlete-Linde-to the 3A State meet this year, it represents a victory for the Grizzly track program.
"No one went to State last year," said Bryson. "It's always a positive thing to have someone qualify for State." The coach noted that things are looking up for next year, as most of Sunnyside's Regional placers will return next season.