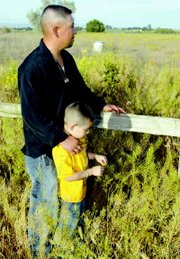 Ruben Uriostegui looks out behind his rental property and thinks about where his plans will take him.
He plans on splitting the two acres he rents out one day, setting aside half for his son when he gets older.
"He's five years old so I have some time," Uriostegui said.
That's time to pay off his property. He still has 15 years of payments left. When he gets his current piece of land paid for he wants to buy another plot of land, maybe five acres or so to rent out.
"Right now, I'm just starting," he says of his property plans.
Uriostegui came to America from Acapulco, Mexico 13 years ago with his parents. His parents were farmers and Uriostegui went to school and spent his free time playing soccer or basketball. During the summer months he would help his parents with the corn in the fields. He can remember a lot of tourists from his years in Acapulco.
When he was 13 his family settled in Sunnyside. "I've spent half of my life in Mexico and the other half in Sunnyside," the 26-year-old said.
His parents went to work in the orchards and Uriostegui went to Harrison Middle School and then to Sunnyside High School.
When he was 20 he went to work for Vigneron Management, LLC. He's been working for that firm the last six years.
He works mostly with grapes and fruit orchards. He does a variety of jobs on the farm and is constantly working with the grapes. His favorite job is on Mondays when he has to go around and check the moisture level of the soil. "They gave me a brand new four-wheeler," he said. Driving around on the four-wheeler and checking the soil is a good way for him to pass the time.
He also likes to drive tractor. He says there is nothing better then sitting in an air-conditioned cab, listening to music and making money. He does other jobs, too. "Whatever they tell me to," he says. This includes cutting the grass between the rows of trees in the orchards or in the vineyards.
He likes working on the farm. He cites the fresh air as his number one reason. "I'm not stuck in a warehouse," he reasons. He also likes the fact he works lots of hours and as a result, his paychecks please him very much.
There is one thing about working on the farm he can't stand. "My allergies," he said. "The pollen in the grass gives me trouble."
Even with his allergies, he hasn't ruled out owning a farm one day himself. "I've thought about it," he admits. "I would like to start small at first with a nursery growing trees and plants."
Until then he will continue to work on the farm and increase his rental property. Something he likes to do very much.
He likes the fact he can use his name to secure a piece of property and have his renters pay it off for him. Of course the flip side to that, he said, is he has to pay the bills himself if he doesn't have any renters. "That's just more bills for me," he said.
So far there hasn't been too many headaches as a landlord. The house he rents out is new enough there hasn't been any repairs and the maintenance is easy enough to keep up with.
His biggest complaint as a property owner is he has to pay $200 a year for irrigation that he doesn't use. Something he finds hard to understand.
"I have to do quite a bit of work to connect my land to irrigation but I'm going to do it so I at least can use the water I pay for," he added.