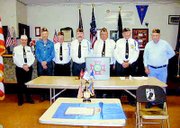 Bill Ingram was installed as commander of the Sunnyside Veterans of Foreign Wars Post #3482 at an afternoon ceremony for incoming officers Saturday, May 20.
Also installed were Bob Jones Sr., vice commander; Phil Hill Jr., vice commander; Curt Nealen, quarter master; Floyd Olson, chaplain; and Ken Kearney, surgeon.
Greg Schlieve, past post commander, installed the officers.
The ceremony also installed the Ladies Auxiliary officers, with Sharon Hallman taking the seat of president.
Phyllis Phelps, past state president, installed the auxiliary officers, which included Carol Christenson, senior president; Marty Clemens, junior president; Marvina Schultz, chaplain; Leola Snyder, secretary; Ruth Cole, treasurer; Ruth Olson, guard; and Norma Robideau, three-year trustee.
Refreshments were served after the services, and it was noted that this coming Saturday flags will be put on the graves of those who have served the country.