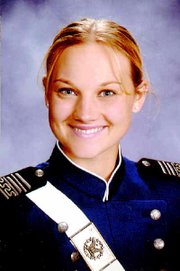 Brittany Dahlstrom, daughter of Aletha and Carl Dahlstrom of Sunnyside, will graduate from the Air Force Academy on May 31.
Dahlstrom will receive a Bachelor of Science degree in political science with a minor in Japanese.
She will also be commissioned as a second lieutenant in the U.S. Air Force.
Dahlstrom served as squadron commander for 150 cadets the last semester. She has already been allotted an official pilot slot, and will enter pilot training at a future date.
Dahlstrom played basketball from her freshman through junior year at the Academy and wound up her sports activity with rugby in her final year. She is a 2002 graduate of Sunnyside High School.
More like this story