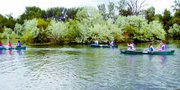 Sunnyside Venture Crew 632 of the Boy Scouts of America launched six brand new canoes this past Sunday-a living memorial to Betsy Porter of Sunnyside, who died a year ago.
"She had a little bit of money and the Scouts needed the canoes, so she bought them for them," said Betsy's husband, Don, who actually passed her money onto the crew.
"It was a generous thing for him to do," said Dan Myers, Venture Crew's advisor.
The six, 15-foot Pelicans took to the water like...well, like pelicans. In addition to their brand name, each bore a woman's name chosen by people who had bid for the honor of naming them.
One name was a given-Betsy.
Crew member Xenia Lain enthusiastically doused the Betsy with cola to send her on her maiden voyage and Don stood on the bank to cheer her on.
A special guest was Frank Villanueva, executive director of the Boy Scouts Chief Kamiakin District, which extends from White Swan to Prosser.
The sun cooperated with the Venture Crew, providing the 15 young co-eds with blue skies and calm waters. The calm water had to be found in a small lake off the Yakima Greenway when Search and Rescue advised the Scouts to avoid the Yakima River launch they had planned since the river was treacherously at flood stage.
The crew was accompanied by their advisors Dan and Kristi Myers, Jill and Mike Shuttleworth, Debbie Mendoza and Ron Jetter, pastor of Sunnyside's Our Saviour's Lutheran Church, which sponsors the group.
The 15 crew members who took part in Sunday's dedication are Helen Shuttleworth, Jillian Jetter, Kassey Libsack, Annika Tronstad, Doolong Park, Xenia Lain, Jonas Lain, Muki Aditya, Alberto Sanchez, Eda Calgunber, Jacob Barr, Hannah Vlieger, Dianna Mendoza, Andrew Myers and Bettina Kempf.
They will be in Idaho July 6-9 on a lengthier canoe experience.