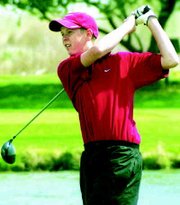 SPOKANE - On the plus side, Sunnyside High School sophomore Justin Bos attained the goal he set for himself at the beginning of the season.
Simply put, he wanted to qualify for this year's 3A State golf tournament. Goal achieved-as yesterday he opened the State tourney with a pretty darn good score, a 5-over-par 77 (38-39) at Spokane's Indian Canyon Golf Course.
On the down side, Bos failed to make Tuesday's first day cut to advance to Wednesday's final round, missing out by a single stroke.
"I really thought 77 was going to be an OK number," said Sunnyside Coach Glenn Braman, explaining that the last couple of years a 78 or 79 got a 3A golfer into second day action at State.
Not this year, though. Of the 80 golfers who qualified for the 3A State tourney, 42 of them shot 4-over-par or better. That included first day leaders Joel Dahmen of Clarkston, bound for the University of Washington on a full-ride golf scholarship, and Cameron Peck of Timberline, both of whom toured the tight Indian Canyon course with 6-under-par 66's. All told, 11 linksters carded sub-par rounds yesterday.
Braman said it was only natural that Bos was disappointed in not making the cut yesterday, "...especially after putting in that much time to get there and then missing out by just one stroke.
"But his goal all season was to get to State, and he achieved that," Braman said.
"With the strong work ethic he has, plus the junior golf competition he'll get this summer, he'll improve by the sheer fact of the number of rounds he'll play.
"He still has his junior and senior seasons to get back to State and improve on this year's finish," said Braman.
"Look at how he improved from his freshman season, when he missed the cut at Regionals to get to State by just two strokes.
"He'll be alright," Braman added.