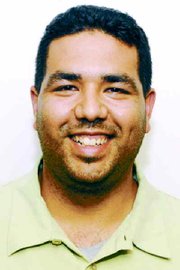 MABTON - The Mabton City Council filled the seat left vacant by John Reynolds last night. Four people applied for the position.
Mario Martinez was selected from four applicants. Martinez has lived in Mabton for the last two years and has had ties to the city all his life. His father and grandparents grew up in Mabton and Martinez's wife is from the city. He currently works at Wapato High School, teaching career and technical education.
The other three applicants were former Mabton Council member Ernesto Armendariz, Vanessa Cervantes and Richard Pena.
Each candidate briefly told the council why they wanted to fill the position and then the council went into executive session. After 20 minutes the council came back out with its decision.
"Mabton is in a unique position," Martinez said. "It's still a small town and pretty quiet in the evenings. This can draw people into living here."
He said he would like to see the city redevelop its infrastructure. "We're not going to see new businesses come in unless we have nice roads, street lamps and sidewalks. Once that's taken care of, Mabton is prime to grow."
Martinez would like to see the city of Mabton take pride in its ownership. He thinks the city needs to be cleaned up. He would also like to see Mabton have its own identity, something other than mad-cow, he said.
"I liked his idea on an identity for Mabton," Mabton Mayor Velva Herrera said. "I think he's going to be a good council member. He's young and energetic and comes with lots of ideas. He has a vision for Mabton."
Martinez will be sworn in Tuesday, June 13, at the next council meeting.