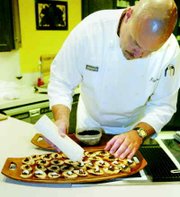 Creating a fine dining experience with cuisine to complement the premier wines of the Valley is the goal of a big guy who goes by the moniker of Big John.
"The clink of silver on china, the tinkle of wine glasses and laughter that tells me people are enjoying themselves, that's my music," said Chef John Caudill.
He put his music together recently at a dinner at Apex Cellars in Sunnyside for a pharmaceutical company that wanted to wine and dine the medical profession.
Providing specialty dinners at wineries in the Valley is part of what Big John offers his clientele. He can also give groups exclusive tours, vineyard visits and private tastings.
"For the tours, I'll meet with customers up in a vineyard and do some showing around and talk about the varietals and serve a meal with crystal stemware, silver, table linens...to give a really fine dining experience," said Caudill.
"I have real close ties with the wineries in the Valley, Chelan, Wenatchee and Walla Walla areas," said Caudill. "Working with the wineries that are producing the premier wines of Washington is what it's all about for me."
Most of this chef's work is done in conjunction with wineries, but he will take a flyer on his own now and then. For instance, this coming Friday he will be serving food samples for the Wonderful Washington Wines class at Central Washington University in Ellensburg.
"It's the first time the university has reached outside its own catering department to do the food," said Caudill, honored to be chosen to provide entree bites to go with the dry wines 20 wineries will be pouring.
"This is the culmination of the class being taught by wine educator Amy Moumma, a well known and very knowledgeable wine connoisseur," said Caudill.
"I'm looking forward to providing an experience. I'll have a rare beef tenderloin with Saint Agur, which is a very expensive double cream blue cheese, like a brie, and crostini with a rough puree of Italian white beans and roasted garlic with a little bit of rosemary," said Caudill, who went on to outline a mouthwatering menu, much of which incorporates herbs he grows on six acres at his home in Outlook.
"For the pharmaceutical dinner at Apex, I served freshly picked Outlook asparagus and Alaskan wild halibut with a citrus and lavender glaze, very aromatic, and a dessert of fresh ginger infused, bitter sweet chocolate pot-au-creme topped with a compote of Valley raspberries frozen from last year," he said.
The lavender, of course, came from his home garden, which is all organic.
"My friends are in the woods hunting or on the river fishing, but I'd rather be in the kitchen experimenting with exotic spices," he said.
Caudill's father was a chef in San Francisco, Calif. in the '50s.
"He swore me out of the business because, he said, people don't appreciate what you do and it doesn't pay. In some instances, he was right, but, if you were born to cook, you cook," said Caudill.
Caudill has not always pursued cooking as an income.
He served four years in the Navy, worked with his father in construction and moonlighted at Nordstroms where, he said, he found a niche in sales for about six years.
"Then it came calling," he said. "I wanted to do something I was real passionate about."
And that something, of course, was cooking.
He put aside work and enrolled in the Seattle Culinary Academy at Seattle Central Community College, supported financially and emotionally by his wife Kim, whom he had married after a traumatic episode in his life bound them tightly together.
"We had been dating about a year when it was discovered in 1990 that I had a brain tumor. It was benign, but required radiation therapy, the whole thing. That kind of solidified things for us. We became really close, really fast," said Caudill.
The support he gave her as she went through college was returned when he decided to take up a cooking career.
Now, in addition to his own enterprises, he dedicates eight to 10 hours a week to Essencia Bakery in Yakima, where he gives the "sweet people" a hand with soups and catered dinners. "They have the people to do the desserts, the sweets, but I'm the savory guy," he said.
"My focus is on folks who come to Eastern Washington wine country for the experience, who like to feel they're being wined and dined. That's my niche now," said Big John.