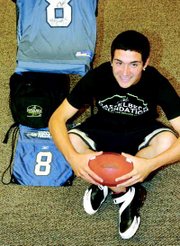 Adrian Cantu likes playing quarterback. He's been one since he was nine-years-old and started playing Grid Kid football.
"I like it because you're the leader of the team and people look up to you," he says. "I'm also following in the footsteps of my older brother, Tony."
After playing in the Grid Kid program for three years, Cantu became the quarterback for his Harrison Middle School seventh-grade team. That team went 7-0 during their season. The next year, he led his team to a 6-1 record.
When he started playing at Sunnyside High School, his freshman team went 9-2. His team finished 6-5 last season and he's looking for the new season to start.
The 6'1" sophomore can throw the ball close to 45 yards and considers himself a pretty good scrambler. He hopes he might be just a little faster and a little better after spending last weekend in Seattle attending the Matt Hasselback Football Quarterback Camp, held at
Safeco Field.
An outside, unknown source paid for Cantu and fellow Sunnyside football player James Baysinger to attend the camp. They received a ride to Seattle from a Sunnyside family.
"I'd like to thank the person who paid for the opportunity for me to go to camp," Cantu said. "I would also like to thank the Wutzke family for providing a ride for me."
Although Cantu is a Pittsburgh Steelers fan, he had no problem taking advice from a Seattle Seahawk. In fact, according to him, his favorite thing about attending the camp was meeting Matt Hasselback and some other Seahawks.
"I met Matt's dad and his brother," Cantu adds. "I also met Darryl Jackson."
At the camp Cantu said he learned footwork and the three-step and five-step drops. He also learned how to read different coverages and some ways to hold the ball.
"We were doing some drills and I was throwing to some receivers when Hasselback walked up to me and gave me some advice on how to hold the ball to get a faster release," he said.
He starts practice for the Sunnyside Grizzlies May 30 and thinks he learned some things that will make him a better quarterback this season. "I learned a lot in just those two days," Cantu said.
Cantu said he is ready for the football season to start. He plans on working very hard this summer. He's hoping to become the starting quarterback on the varsity squad.
"I'm pretty confident I will make varsity and be the starting quarterback," he said.
If he does he might have a good chance at following his favorite football players, Ben Roethlisberger and Michael Vick.