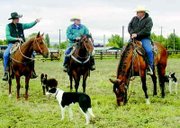 GRANGER - Cutting three head of young heifers out of a herd and steering them through an obstacle course was cowboys play yesterday at the ninth Annual Grazing Workshop and Field Tour in Granger.
Ambrose McAuliffe put his Border Collie through its paces in the arena at Arstein Mill and Sheep Ranch to show how the dogs can be used to herd beef cattle and dairy cows.
"It's a little harder to herd dairy cows," said Dean Thompson.
"They don't want to bunch up. They tend to spread out more, which makes it a little harder," he added.
Ambrose McAuliffe, Thompson and Roger Edwards bunched up together themselves before the demonstration started at 1 p.m. to hatch out a plan they hoped would see the three heifers run the course in good time.
In Border Collie competition, the judges give points for how quickly the course is covered, as well as for success in maneuvering stock through a set of obstacles.
Yesterday, McAuliffe and his Border Collie quietly cut their three heifers from the herd without disturbing the other stock, a practiced technique to prevent stress to the cows.
They did have a little trouble getting the dairy stock through gates positioned in the center of the arena, let alone through an ell-shaped barrier, but, in time, McAuliffe and his buddy got the job partially done.
Thompson, who followed him into the arena to take his turn, cut time off the clock as he rapidly moved his three heifers through the center gate and around the other obstacles.
Allen and Cheryl
Voortmann, owners of Pride & Joy Dairy who put on the workshop in conjunction with Arstein Mill and Sheep Ranch, use Border Collies on their Granger dairy operation on Liberty Road.
"We have 325 cows on 210 acres and we graze everything on permanent pature," said Cheryl. "The cows are out on grass eating, right? But they have to be brought in for milking. Allen is master of the dogs, so he sends the dogs out first thing in the morning and they bring the cows in."
The dog that was being worked yesterday by McAuliffe responds to whistle commands. Each whistle indicates a different command, and the Border Collie was quick to react, flattening out close to the ground in a waiting mode or racing to cut off a heifer with a mind of its own.
Border Collies are premier herding dogs, bred for centuries to bring the toughest sheep through the roughest terrain. The breed's keenness to work and strong desire to please were apparent at yesterday's demonstration.
The Border Collie breed rose through selection for a particular, creeping, keen-eyed, intimidating style of work. All of these traits were apparent as McAuliffe's dog weaved its way through the herd, working the dairy cows toward the gates and chutes.
Although Border Collies are bred to be stock dogs, they are also being used as service dogs and as hearing dogs for hearing impaired people. Some of the larger Border Collies can be used as guide dogs for the blind, but most are too small for that job.
The United States Border Collie Club, Inc. (USBCC) is dedicated to preserving the breed as a working stock dog as opposed to showing the breed based on appearance. USBCC also encourages owners of Border Collies to work with their dogs in the many canine sports, such as agility, at which they excel.
Among the speakers in the earlier part of the workshop were Jerry Williamson, whose farms produce contract crops and 100 percent grass fed beef; Harland Radomske, an award-winning cutting horse competitor; Kurt Braunwort of Othello, owner of Pro Gene Plant Research; and Frank Hendrix, WSU Yakima County Extension agent, who has 30 years of production experience.
A cowboy-style lunch was served at noon.