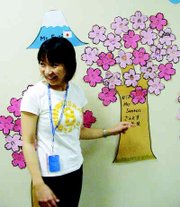 Kyoko Fukumoto of Osaka, Japan can not walk through the halls of Pioneer Elementary School without hearing friendly greetings in her own language.
In the month and a half she has been interning in Sunnyside, the petite 25-year-old has shared her Japanese culture and language with the students to the extent that Japanese greetings roll easily off their tongues.
"They are so friendly!," Fukumoto enthused.
"At the school in Japan, the kids are shy, but in America they're so friendly. They're not afraid to say hi or hello," said Fukumoto.
She said she is finding friendliness everywhere she turns in America.
"I walk the street and I don't know that guy, but he smiles at me," said Fukumoto. "In Japan, they never say hi or smile at strangers.
"In Japan, they work so hard they sometimes forget to smile. In America, they relax their minds. They always smile a lot. I like that."
She said she finds the students here more outgoing than their reserved counterparts in Osaka.
"Kids in Japan go to school six days a week, from Monday to Saturday, so they study more than American students. Yes, I would say (because of that) they are..." and here, Fukumoto's English fails her.
She agrees, reluctantly, to consent to the words "...more academically advanced".
Then she is quick to add, "Too much study sometimes not good."
She said that some Japanese schools have adopted the five-day school week.
"Kids study too much, so some schools are on the new five-day schedule," she said, but added, "In Japan, almost all kids go to Juku, which is like a cram school, an extra class after school to help them do well on tests.
"In Japan, kids have cleaning duty. They clean the classrooms, bathrooms, every area," Fukumoto explained.
Here, she said she is teaching the students "Japanese things, like basic conversation, Japanese language-we have three different ways of writing, Hiragana, Katakan and Kanji (which is the use of 3,000 Chinese characters).
"Kanji is very difficult, even for Japanese," she said.
"America it is A to Z. In Japan, we have three different ways of writing. Everybody learns the three different ways," she said.
They not only learn them, they use the three ways all in one sentence, she said. And they open their books or notebooks at what would be the back of an English-language book.
"And we write left to right or up and down, everywhere," she said.
She found one great similarity between students in both countries.
"Both students are very in high spirits and they have a thousand questions. I like that about them," said Fukumoto, who co-teaches English with foreign teachers to kindergarten through sixth grade students.
A graduate of Kansai Gai Ko Kugo (Osaka Foreign Language College) she has been teaching for three years. She lives with her parents in a traditional Japanese home with a lively, long-haired dog and a small Buddhist shrine in a serene Japanese garden.
"I really like it here. Two years ago, I went to San Francisco for two weeks, visiting friends. San Francisco is a very big city. Sunnyside is not so big, but I like Sunnyside because they are so kind to me. I like everything and my host family and going out somewhere with them," she said.
"I have met many nice people here. I am so happy. It is going to be a great experience for me," she added.
"The best thing here? To eat American food. I tried Mexican food, but I really like American food...pizza, lasagne," she said, then looked a bit chagrined when told those were actually Italian dishes.
"Well, hamburger! I like hamburgers, but really the pizza slices here are so big," she said admiringly. "In Japan they are like this," she said, measuring a wedge smaller than her own tiny hand.
During her two-month stay in Sunnyside, Fukumoto will share her time with five families, all teachers in the district.
Asked where she has been so far, she named Seattle and Portland, but then exclaimed, beaming, "And Costco! It was very interesting for me because everything is very big, even a big chocolate cake. In Japan, I never saw a cake so big!"
Fukumoto will return to Osaka on June 10, but in July she leaves again, for Australia where she will work for a year. She will leave behind a tall boyfriend, an Australian who lives in Osaka and teaches English there. "But in November or December, he will return to Australia," she said, smiling.
"I want you to write this," she said, handing over a note she had printed in English.
It read: I'm proud to be a part of Japan's learning experience. Someday, come to Japan to visit me.
"Every day I keep diary, not to forget," she said.