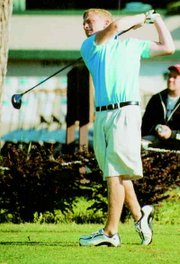 SPOKANE - Yesterday, senior Andrew Michels stamped his ticket as one of the best to have gone through the Grandview High School golf program.
"He's in pretty select company," said Grandview Coach Dave Uggetti, ranking Michels near the top with the likes of such former Greyhound greats Michael Clark, Souta Nozaka and Stephanie Thomas.
Michels backed up his opening round of 77 at the 2A State golf tournament on Tuesday with a 3-over-par 74 on Wednesday. His 151 two-day total at Spokane's Downriver Golf Course earned the Greyhound linkster a 12th place finish at State.
For Michels, this was the third consecutive year he'd earned a trip to State. He missed advancing to day two action at State his sophomore and junior seasons, but this year he wasn't to be denied.
Uggetti said after narrowly making the day one cut, having finished right on the cut line of 77, Michels was sitting in 19th place and set a goal heading into yesterday's round of finishing in the top 10.
"He just about got there," Uggetti said, "But it turned out he had too many golfers to get past to make his goal.
"Still, the 74 he shot yesterday was a great round, and he should be proud of what he's accomplished," Uggetti added.
Michels opened Wednesday's round with a front nine, 3-over-par 38 on the par-71 course (35-36).
Making the clubhouse turn, Michels picked up steam and proceeded to play even-par the rest of the way. That was due, in part, to consecutive birdies on holes 13 and 14, a pair of par-5 ventures.
The 74 Michels notched Wednesday morning was just two strokes back of the best score of the day, collected by two-time State champion Bart Patitucci of Othello, who finished with a 1-over 72. Coupled with his first day 74, Patitucci came away with third place honors.
This year's 2A State champion and runner-up are Hockinson High School teammates Gaston De La Torre (67-74-141) and Gerrit Chambers (68-75-143).
The next best finish by a CWAC South Conference player was the 11th place showing of Toppenish's Adam Story (76-74-150), who edged Michels by a single stroke. Also representing the CWAC South at State was Othello's Jason Brault, who tied for 20th place honors with rounds of 72-82-154.
In assessing Michels' play in the four years he's coached him, Uggetti said he's always been impressed with his work ethic.
"Always working to improve," he said of the senior, citing Michels' near miss at qualifying for State his freshman season and improving the following year to make it to State, only to miss the day one cut by a single stroke.
Uggetti went on to detail that Michels will be remembered as one of the best to have played for the Greyhound golf program. The only three former Grandview players who topped him at the State level were Clark, a two-time State champion from about 17 years ago; Nozaka, who placed second at State as a sophomore and finished sixth and fifth his junior and senior seasons; and Thomas, who went to State all four years and managed a third and two fifth place finishes, and who placed 20th her freshman season at State while collecting a hole-in-one in the process.