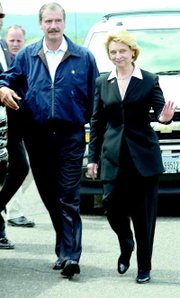 YAKIMA - Dogs sniffed bouquets of flowers-for explosives, not for their scent-as a wall of regional and national press awaited the arrival of Mexican President Vicente Fox yesterday at McAllister Field in Yakima.
Fox was greeted in Yakima by Washington Governor Christine Gregoire.
It was a meeting that was just announced to the public this past Friday, but it had been in the works for a year, confirmed Lars Erickson, the Governor's press secretary.
"Trade is the primary focus of the trip," said Erickson. "Mexico is this state's 10th largest trading partner."
Washington's second biggest export to Mexico is fruit, now approaching $100 million annually, which increased by nearly 50 percent in 2005.
Enter the Yakima Valley, which annually produces a bumper crop of the state's fruit harvest.
During Fox's visit to Yakima he toured G&G Orchards in Naches Heights and visited with farm workers.
G&G is the largest Mexican-American owned farm operation in the state. "It was a pretty unique chance to speak to farm workers and guest workers," said Erickson.
Visiting in support of immigration, Fox's arrival came the same day the U.S. Senate proposed legislation toughening border controls, while creating a path to citizenship.
"You can't have the President of Mexico here and not discuss illegal immigration," said Erickson, noting that the topic was among those to be discussed as Gregoire and Fox visited both in Yakima and Seattle.
In a letter to U.S. Senator Maria Cantwell just weeks before the Senate's immigration vote, Gregoire made her stance on the issue clear.
"Washington's economy lives and breathes through agriculture, an industry in which at least 60 percent of its labor is immigrant labor," she wrote. "Our state needs a federal immigration police that recognizes the importance of providing a stable, reliable workforce for our harvests."
Fox's arrival at the Yakima airport was welcomed with handshakes and flowers, but just blocks away about 50 people gathered to protest.
Shouting, "Fox go home and take Gregoire with you!" the group, known as Protect Washington Now, also held a signature drive for Initiative 946. Shawna Forde of Protect Washington Now said the group wants the state to withhold all taxpayer benefits from illegal immigrants in the state. Forde said the group also hopes to see Washington prevent illegals from accessing hospital emergency rooms for routine medical care.
"If they have an actual emergency then, of course, they should go there," she said. "But they shouldn't be able to use our emergency rooms just for basic medical care."
The protest echoed on another street corner along President Fox's motorcade.
"We want legals, but we want to say that illegal immigrants are not welcome," said John Playfair of Redmond.
There were supporters of immigration and Fox along the route, as well.
"We're happy he's here," said Sunnyside resident Pedro Silva, who came to the U.S. from Mexico 25 years ago.
When asked for his response to the banners and signs protesting Fox's visit, Silva observed, "Everybody thinks a different way."
Silva's brother-in-law, Jorge Salazar, also lives in Sunnyside and came here from Mexico 14 years ago.
"People come into this country not to make it weak, but to make it strong," Salazar said through a translator. "We came here to make a better life, not to cause problems for people."