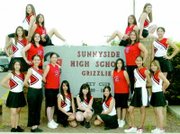 Fresh off an eighth-place finish at State, the Sunnyside High School Grizzliettes dance team has been picked and is ready to get training to make another run at State.
"Last year our goal was to make it to State," Grizzliettes Coach Melodie Lopez said. "This year our goal is to win it."
That's the theme of the season. The 2006-07 team tryouts were held May 13 and out of the 26 girls who auditioned, 20 made the team.
"They are excited and eager to learn," Lopez said. We're hoping to do some big things this year."
Practice won't start until the end of the school year and then it will be daily practices starting at 9 a.m. and ending at noon. The main focus will be body conditioning, weight training and technique.
"We need the body conditioning so they have good cardio," Lopez explained. "Dancing takes a lot of energy. They do weight training to build up their strength for turns and practice technique to become better dancers."
The Grizzliettes will also be attending the Thunder Bird Dance Camp held at the University of Portland July 9-12. The dance team is trying to raise $9,000 to cover the expenses of the trip.
They just finished a cookie dough sale where they were able to raise $1,900. "They did really, really well."
The Grizzliettes will also spend the next five Saturdays washing cars for donations. The first car wash will be this Saturday, May 27, at Taco Bell in Sunnyside, from 10 a.m. to 4 p.m.
"We're having a promotion where people can buy four car washes for $20 and get one free," Lopez said. "The promotion ends tomorrow and then we will be asking for a $5 donation for each car wash."
The remaining four car washes will be held at different locations and people can call Lopez at 391-6034 for more information.
The Grizzliettes will also be raising money by selling concessions at the Sunnyside Kiwanis Club's Fourth of July celebration held at Sunnyside High School. On that day the girls will also march in the Toppenish Fourth of July parade.
The Grizzliettes Dance Team is confident they can raise the needed money. "We can do it," added Lopez.
The dance team is hoping to make it to State in three categories this year: hip-hop, jazz and the pom-pom routine.