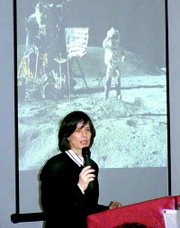 From an Outlook farm girl to a space shuttle astronaut, Bonnie Dunbar shared her story with local scouts and their supporters during a fundraising breakfast Thursday morning at the Sunnyside Community Center.
"People ask how someone like me can go from a farm to the space program," she told the audience. "When I looked out my door and saw space it was no stretch to imagine myself in outer space," she said.
In encouraging the scouts to consider their own future in math and science, Dunbar estimated that about half of the astronauts in the NASA space program are from small towns.
But it's not just astronauts that NASA needs, said Dunbar. Noting a pending shortage of engineers in this country, Dunbar said the U.S. is facing a situation where it will have one-tenth of the engineers China has and one-fourth of the engineers in India.
"Our industry will suffer," she said of the outlook for the U.S. if the engineering shortage is not addressed.
Retired from NASA last year, Dunbar now heads the Museum of Flight in Seattle, providing hands-on education for students.
Dunbar also pointed to the vision of others through the history of flight, ranging from Leonardo da Vinci to Robert Goddard, the father of modern rocketry.
She also remembered those instrumental in her career and education such as Stan Snow, her principal at Outlook Elementary School.
Dunbar flew a total of five space missions between 1985 and 1998, but said her mission now is to preserve the past at the museum, while looking to the future.
That includes scouting.
While pointing out that scouts can earn a Space Explorer Merit Badge, Dunbar noted before her presentation, "The keys for them will be education and goal setting."