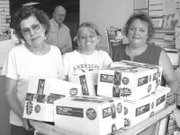 GRANDVIEW - Being a soldier stationed in Iraq can be uncomfortable to say the least. It's not fun to drink warm, 100 degree water or shave without shaving cream or a fresh blade. The sand gets in everything and when the troops aren't working, they're trying to find something to do to pass the time that doesn't include wiping sweat out of their eyes, swatting flies away from their face or finding cover from the daily windstorms.
So it was with great sincerity when Grandview's Winnona Oliver came up with the idea to try to make the life of her grandson, Marine Staff Sergeant Jonathan Hooper, and his men, a little more bearable and send them some care-packages.
Winnona Oliver enlisted the help of Coralea Farris-Pickett and Louise Bianchi and the three got the ball rolling.
"We've been wanting to do something like this for a while," Farris-Pickett explained. "We sent packages to the troops back in 2004 but it's not as easy as you think. You can't just send packages to troops. You have to send them to one specific person."
When the members of the local VFW posts and American Veterans groups got wind of it, they all jumped on board too.
Farris-Pickett, Bianchi and Oliver, working with Helen Trusley, her daughters Courtney, Brandy, Marvin Trusley and Domingo Rameriz Jr. all helped organize the care-package delivery.
Wal-Mart Store in Sunnyside and the Wal-Mart distribution center donated items and the company Little Debbies donated nine boxes of assorted snacks.
Members of the Sunnyside and Grandview communities, VFW Post 6929, VFW Auxiliary Post 6929 and the VFW Men's Auxiliary, as well as the American Veterans 95 and American Veterans Auxiliary 95 donated money to help purchase some supplies and help with shipping costs.
The post office in Grandview was also helpful with the group's quest to deliver these packages. They found a deal where a box could be sent to Iraq for $8.10 and there was no limit on the weight, it just needed to fit in the box.
So Farris-Pickett and the gang spent lots of time stuffing 38 boxes full of toiletries, food items, clothes, books and they used newspapers for padding, thinking the troops could read those too. They also sent one-gallon size plastic ziplock bags for the troops to store items in and keep the Iraqi sand out.
Everything took time to do. Farris-Pickett estimates the group spent about 60 hours working on the project.
Everything in every box had to be listed on a customs form and this took some time.
The group dropped off the packages to the post office Thursday. Oliver seemed a little overwhelmed by everything.
"I really didn't' expect all these boxes," she said. "It's amazing. Wait till they see this in Iraq."
There were 38 boxes all together, weighing 300.5 pounds. The total cost to ship was $307.80.
Hooper is from Texas and is based in North Carolina. He has been in the Marine Corps for 15 years and hopes to retire after 20 years.
"It's been a lot of fun, a great experience and a lot of work," Farris-Pickett said. "We appreciate everyone that's helped us.