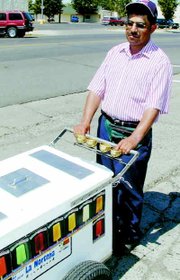 As temperatures hover near triple figures you can hear the ever so faint-and ever so tempting-jingle jangle of Jose Antonio Montoya's ice cream cart.
With help from colleagues Nora Hernandez and Mary Gomez, I visited with Montoya recently as he plied his frozen treats on the blistering hot sidewalks of Sunnyside.
Montoya offers treats that are not so much ice cream, but frozen fruit bars with flavors such as watermelon, maple nut and lemon. Then there are the exotic selections of pina colada and Jamaica.
He said he's been walking the treat beat for six years now in what is a seasonal job to help kids of all ages keep cool.
"I like to be with people, to wait on them and give them good service," he said of the job's highlights.
Since he is on foot through the entire route, Montoya didn't know how many miles he walks in a typical day. He did say, though, that his route takes him all around Sunnyside. He said he walks until he is tired, usually on a shift that runs from noon to about 6 or 7 p.m.
Montoya and his colleagues will be at their busiest in just a few weeks when school lets out for the summer break.
So how does he handle the onslaught of frozen fruit-hungry youngsters?
Montoya admits he gets a little nervous, especially when over-eager children start rummaging through the treats in his portable frozen cooler. "But I calm down and stay patient with it," he said.
At the same time, Montoya, too, is a kid at heart and said that pineapple is his favorite frozen fruit treat.
The most challenging part of being a frozen fruit vendor isn't a rush of children approaching his cart or resisting the temptation to sample the frozen merchandise.
No, Montoya had one word for the biggest challenge for life on the road or, in this case, sidewalk.
"Heat," he said. That is the ice cream vendor's toughest foe.
But he's been at this for six years, now. So what keeps him going-putting one foot in front of the other-as the sun beats down mercilessly?
"I'm happy because I see the kids enjoying it (the treats)," he smiled. "I like serving kids."
In fact, he enjoys his job so much that he's been known to help out a customer or two.
Montoya grinned, "Sometimes they want to buy two and don't have enough money so I buy one for them."