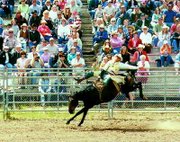 BICKLETON - The cowboys will ride again in this year's 96th annual Alder Creek Pioneer Picnic and Rodeo near Bickleton.
The event is set for June 9-11 at Cleveland Park, four miles west of Bickleton.
Events will range from rides on a 1904 pony carousel, to rides on ponies of a more rough and tough nature in the rodeo.
Registered by the Northwest Professional Rodeo Association, Alder Creek will offer jackpot rodeo events and novice barrel racing.
In addition, a merchant cow milking contest will be held, which will challenge teams to rope a cow, milk it, release it and get back to the finishing line with milk still in the bottle.
The always popular mutton busting event for youngsters 60 pounds and lighter will also return.
Rodeo events begin at 1 p.m. on both Saturday and Sunday, June 10 and 11, and admission is $7 for adults, $3 for children ages 6-12 and free for children under 6.
There is also fun outside of the rodeo ring, such as a food booth and beer garden.
The fun includes a Saturday night dance on the open-air stage, and a church service on the same stage Sunday morning
To register for rodeo events, including jackpot, mutton busting, merchant cow milking and novice barrel racing, contact Vicky Read at 509-896-5595 between 3 and 8 p.m. on June 1 and 2.
For more information on the picnic and rodeo, contact Read or visit www.bickleton.org