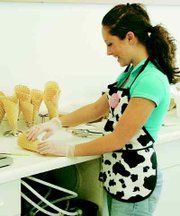 Opening an ice cream parlor just sounded like a good idea to Valerie Dickinson.
"My co-workers said Sunnyside needs an ice cream parlor," she said.
Dickinson followed up on that idea and earlier this month opened Cold Cow Creamery at 2685 E. Lincoln Avenue, near Wal-Mart.
Dickinson, who works at Pioneer Dental in Sunnyside, runs the ice cream shop with help from daughter Megan Metteer when she's home from studies at Eastern Washington University, and husband Blake.
One employee, Kristina Hernandez, has been hired so far and Dickinson estimates another three will be hired once the summer rush kicks in.
Cold Cow Creamery currently offers 17 flavors of Dreyer's Ice Cream. "We'll rotate the flavors and we're always open to suggestions from our customers," Dickinson said.
The shop offers homemade shakes and malts. In addition to offering regular sugar ice cream cones, the Dickinsons make their own waffle cones.
An espresso machine is in the offing, as well, enabling Cold Cow Creamery to offer coffee and ice-cold granita drinks. Also available are soft drinks
Dickenson said business is picking up.
"Everyone has been really nice and patient with us," she said. "It's nice to see people smiling when they come in the door."
Cold Cow Creamery is open noon to 9 p.m. Monday through Thursday and noon to 10 p.m. Friday through Sunday.