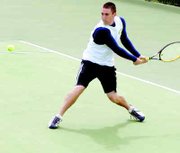 YAKIMA - Kevin Floyd made Grandview High School history this past weekend, winning the school's first ever tennis crown during this past weekend's 2A State tennis tourney.
Floyd, who was third last year, grabbed the singles crown with straight-set wins over two days of play last Friday and Saturday.
The title run opened with a convincing 6-1, 6-0 first-round win over Kiran Poovaiah of Pullman.
In the semi-final round later last Friday, Floyd prevailed 6-2, 6-2 over Matt Stewart of Omak.
That set up the 2A boys singles final between Floyd and Tyson McGuffin of Chelan. The meeting was a rematch of the CWAC Regional title game a week earlier in which Floyd handily won.
That wasn't the case in Saturday's finale.
Floyd won the first set 6-4, taking a 3-1 lead after breaking McGuffin's serve, then holding his own serve the rest of the way.
Floyd won the second set, and the championship, by the same score of 6-4.
"The second set started on a tougher note for Kevin," said Coach Jaime Morales. "Kevin lost his serve in the first game and was down 0-2."
Floyd was still down 4-2 in the second set. McGuffin then had a chance to increase his lead 5-2, and come within one game of knotting the match at one set apiece.
But Floyd refused to go away, rallying for a win to pull within 4-3 of McGuffin.
Floyd tied the second set at 4-4 and took the lead for good at 5-4, but only after withstanding a charge by McGuffin that forced Floyd into six game points.
Grandview's first State tennis title was then sealed when Floyd cruised to take the set, and match, at 6-4.
"After he was down 4-2 Kevin just took over in that second set," Morales said of Floyd's four-game win streak to take the match.
"It was really exciting, a good match," Morales said of the finale. "Tyson made Kevin work for every point."
Morales said the winning moment, as Floyd was mobbed in celebration on the court, was "surreal."
He noted, "I had to ask myself if this was for real. It was an awesome experience, second to none that I've ever had in tennis, and I'm just so glad I was part of the ride."
Floyd, who will play tennis at Pacific Lutheran University, closed out his Grandview tennis career with an overall record of 95 wins and just 11 losses.