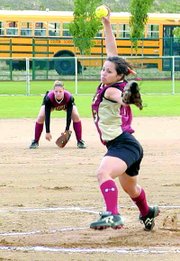 YAKIMA - They may not have trophied, but the Sunnyside Christian High School Lady Knights made their presence felt at the 'B' State fastpitch softball tournament, held this past weekend in Yakima.
SCHS played a total of five games, winners of three of them. Two of the wins, against the Touchet Indians and Selkirk Rangers, ended their opponents' season.
The Lady Knights saw their own season come to a close late Saturday afternoon, as powerhouse Morton prevailed in a loser-out, 2-0 nailbiter. The victory advanced Morton to the trophy round, leaving Sunnyside Christian with a "top six" finish at State.
"After getting beat in our last game by Morton, there were no tears in the dugout," said SCHS Coach Sandy Harris. "Everyone was happy and smiling.
"And they should have been happy. The girls played extremely well.
"To come back on Saturday after the loss to Toutle Lake Friday night and to play well, well...the girls just did a great job," Harris continued.
"And our freshmen, they really stepped up and played well," she said, noting that of the 12 girls on this year's varsity squad, five aren't yet sophomores.
"Especially our freshman outfielders," said Harris. "Leah Bosma and Melanie Van Wingerden were catching everything hit out to them. "And another of our freshmen, Abby Bangs, did a good job of pinch hitting and playing right field. Those three just did a terrific job out there for us."
The Lady Knights opened the State tourney last Friday at noon against Odessa, coming away with an 8-3 victory over the Tigers. Propelling Sunnyside Christian to the win were Brittany denHoed, Courtney Rice and Melanie Van Wingerden, each of whom went 2-for-4 at the plate. The junior denHoed, perhaps, inflicted the most damage against Odessa, lashing a two-run double in the first inning enroute to collecting three RBI in the contest.
Sunnyside Christian was up 5-2 on the Tigers after three and a half innings of play, but took firm control of the game with a three-run burst in the bottom of the fourth. Jacqui Roberts and Emily Hernandez had singles that frame, and Rice drove in a run with a fielder's choice.
The opening round win advanced the Lady Knights to a Friday night quarter-final game against Toutle Lake. The Ducks, who gave up just two runs the entire tourney and ended up winning the championship game by a 14-0 score over Entiat, blanked Sunnyside Christian, 11-0.
Every bit as good as advertised, Harris agreed in the assessment of Toutle Lake.
"They could all hit the ball hard, and they had three pitchers who were all dominating," Harris said of the State champion Ducks.
The two hits the Lady Knights generated off Toutle Lake were singles, one by Van Wingerden in the third inning and the other by Hernandez in the fifth.
Sunnyside Christian actually got a rally going against the Ducks in the top of the third-after Van Wingerden singled her way aboard and Naomi denHoed followed with a walk-but Toutle Lake got out of the scrape by turning a triple play.
It would have been easy to fold the tent after the 11-0 loss to the Ducks, but SCHS stormed back Saturday morning and posted a convincing 5-1 win over Touchet. Roberts, B. denHoed and Van Wingerden each banged out a couple of hits in the victory, and Hernandez came through with a two-run triple in the second inning, when the Lady Knights scored all their runs.
Sunnyside Christian advanced to play another loser-out game, and again the Lady Knights came through, edging Selkirk by a 3-2 score. After Emma Newhouse's RBI double in the second inning tied the game at 1-1, SCHS plated the go-ahead scores in the bottom of the sixth. Roberts started the rally by reaching base on one of two errors the Rangers committed in the inning, ending up at third on the miscue. B. denHoed followed with a sac fly to center to give her club a 2-1 lead, and after Hernandez singled, Newhouse slapped a shot that was misplayed and let in another run for a 3-1 lead. The Rangers closed to 3-2 with a single run in the seventh, but it was too little, too late.
The victory over Selkirk set up the showdown with Morton for the right to advance to the trophy round. The Lady Knights came through with four hits against Morton's ace hurler, Ramsay, but were unable to parlay any of the hits into runs.
The closest Sunnyside Christian came to scoring came in the seventh inning, with Morton clinging to a 2-0 lead. B. denHoed singled to open the frame and Tori Van Wingerden followed by drawing a walk. Ramsay stiffened, however, fanning the next two batters and inducing a groundout to end the game.
The Lady Knights finished their 2006 campaign with an overall mark of 21-7.
Odessa 0 0 2 0 0 1 0 -3 4 2
SCHS 3 2 0 3 0 0 x -8 9 2
Harp and Nelson. Hernandez and Newhouse. SCHS highlights: B. denHoed 2/4, 2B, 3 RBI; Rice 2/4, 1 RBI; M. Van Wingerden 2/4.
SCHS 0 0 0 0 0 -0 2 3
Toutle Lake 2 2 2 4 1 -11 10 0
Hernandez and Newhouse. Dahlman and Fox. SCHS highlights: Hernandez 1B; M. Van Wingerden 1B. Toutle Lake highlights: Seals 3/3, 2B, HR; Schafer 2/3; Dahlman 1/3, HR.
Touchet 1 0 0 0 0 0 0 -1 2 3
SCHS 0 5 0 0 0 0 x -5 9 1
Sampson, Weber (5), Plucker (7) and Dorman. Hernandez and Newhouse. SCHS highlights: M. Van Wingerden 2/3, 1 RBI; B. denHoed 2/4, 1 RBI; Roberts 2/4, 1 RBI.
Selkirk 1 0 0 0 0 0 1 -2 7 2
SCHS 0 1 0 0 0 2 x -3 5 0
Pope and Williams. Hernandez and Newhouse. SCHS highlights: Newhouse 2B, 1 RBI.
Morton 0 2 0 0 0 0 0 -2 6 2
SCHS 0 0 0 0 0 0 0 -0 4 2
Ramsay and Gaut. Hernandez and Newhouse. SCHS highlights: B. denHoed 1B; Newhouse 1B; Hernandez 1B; T. Van Wingerden 1B.