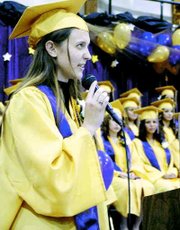 MABTON - Mabton's graduating class of 2006 was not only praised for being the school's largest ever with 59 graduates, but commended as pace setters in other areas.
In noting the evening was "celebrating triumph," Mabton School Superintendent Sandra Pasiero-Davis set the tone for the Class of 2006's commencement exercises this past Friday night.
During the keynote address, Mabton Junior Senior High School Principal Keith Morris listed several ways in which the graduates are unique.
Calling commencement "a new start" for the next chapter of their lives, Morris said the Class of 2006 has more foreign exchange students (7) than previous years.
At the same time, 37 of the graduates have attended school together since kindergarten. Some, he added, actually went to pre-school together.
The class is a group of achievers, Morris told a packed house in the Mabton gym:
• Twelve of the graduates received Achiever scholarships from the Bill and Melinda Gates Foundation, assuring them of having all college expenses paid.
• Morris said 88 percent of the 2006 graduates will pursue post-secondary education.
• Some of the seniors played on this past season's football team, which recorded the first perfect season since 1957.
• Some of the seniors were members of the 2005-06 girls basketball team that advanced to Regionals, the first Mabton team to do that in 20 years.
Morris closed his comments on a humorous note.
"Even a few of the seniors set the record for in-school suspension," he said amidst laughter from the crowd.
The light-hearted tone continued with Salutatorian Katie Beeman.
After generating humor and laughter from a fortune cookie message, Beeman encouraged her classmates to "hold your head up high and walk proudly."
Valedictorian Alida Mendoza said that each one of the 59 graduates "will start a new page" in their lives after leaving high school. She added, "But we'll remember our experiences. Our friendship will not fade away."
Later, graduates thanked parents and teachers who helped them through school. The class also presented gifts to school staff, including Morris, who has been at Mabton for 22 years.
The display impressed Mabton School Board Chair Manuel Guzman who, just before presenting diplomas to the graduates, praised the class's example in showing appreciation.
"Let's give this class a hand," he told the audience. After the applause, Guzman smiled and called for another round of applause, "This class deserves more, let's try it again."
Applause not once, but twice.
Now that's unique, different, just like Mabton's Class of 2006.