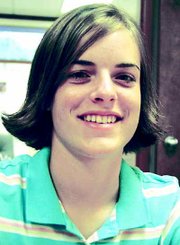 Tori Van Wingerden aced a trigonometry contest among high school students throughout the state, netting her $100.
Van Wingerden, a junior at Sunnyside Christian High School, had a perfect score (110 points out of 110) in her school competition, a score that was matched by a fellow SCHS student, Ben Dekker. But Van Wingerden was declared the school winner because she finished the test six minutes ahead of Dekker.
She received $50 of the $100 for that achievement. The second $50 came to her because her score was the highest among all competing students in the state.
The win thrust her into the State Trig Star competition, where she received 80 out of a possible 100 points. It earned her a second place finish because the winner, who also scored 80, was speedier in completing the test, a fact that helped Van Wingerden better understand how Dekker felt when she raced the clock to beat him in Sunnyside.
Students competing across the state were not tested together. There were four or five testing sites; Van Wingerden took hers in Selah under the direction of an observer timer. All the tests were funneled to an official who graded them.
"I did not get my test back and don't know which problems I missed, but I think I missed the last half of the last question. It was the most difficult," said Van Wingerden, who has not had a trigonometry class.
A student in the class taught by Doug Gorter, principal math teacher at SCHS, Van Wingerden was given two practice sheets before the two contests.
"I spent about an hour and a half studying eight or 10 problems," she said, adding that she had received the basic rules of trig in her geometry class at the school.
She said she isn't sure how she will put her math skills, which she describes as "coming naturally" to her, to work in the future, but might consider accounting.
"I have a year to decide that," the junior said.
The contest was organized by the National Society of Professional Surveyors and was sponsored by the Land Surveyor's Association of Washington, Cascade Columbia Chapter.