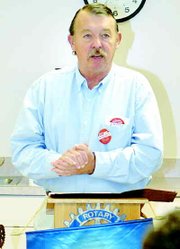 In 1976 there were six wineries in Washington state. Today there are more than 400 wineries across the state making wine that is recognized around the world. How did this happen? According to Mike Wallace, it all changed in 1969.
Wallace, the president and winemaker at Hinzerling Vineyard and Winery, told Sunnyside's Daybreak Rotary Club Wednesday that before 1969, all wines made outside of Washington had to be approved by the Washington State Liquor Control Board (WSLCB).
The WSLCB would approve the wines and then buy them. After a mark-up, the WSLCB would sell them to grocery stores or would sell them in liquor stores. This kept many wines out of Washington and as a result, Washington wineries didn't have much competition and the wine made wasn't of the best quality.
"They were probably known for their alcohol content rather than their taste," Wallace said of the early Washington wines.
This changed in 1969 when the state legislature changed the law, making it easier for out-of-state wines to be sold in Washington. Grocery stores could now buy wine direct from distributors instead of the WSLCB. California wines flooded the area. As a result, of the 10 or so wineries in business in Washington, by the next year only eight were still in operation.
This forced Washington grape growers to start planting better grape varieties and to make better wine to compete with the California wines.
Wallace said some very unique factors help Washington grape growers produce premium grapes.
One is the weather. There is low-rain fall here and this allows grape growers to control the growth of their grapes with irrigation. The soil is low in nitrogen and water-holding capacity. This again allows the grower to control the nitrogen input.
"Grapes love nitrogen but if there is too much then they will continue to grow and won't fruit," Wallace explained.
He added it's easier to control the plant's growth in this soil.
Also, the grapes in Washington don't have to be grafted onto roots like in other places. Washington growers don't have to worry about phylloxera, a disease that destroys grape vines, so they can plant their vineyards at a cheaper cost than places like California and outside the United States.
Wallace predicted there will be 500 wineries in Washington by 2010. With all these wines becoming available, he said it's important for the tourism industry to grow. "There isn't enough shelf-space to sell all these wines in the stores," he said. "The solution will be to sell directly to the customer." That's why tourism is so important here, according to Wallace.
Wallace said that most varieties of grapes grow very well here but over time growers will find the best strains and probably only grow those. Some he thinks will be staples in the Lower Valley are Merlot, Cabernet and Syrah.