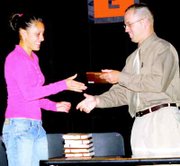 Sunnyside High School recognized its 2006 spring sports athletes in a ceremony held at the Sunnyside High School auditorium Tuesday night.
Victoria Ramos was named MVP of the girls fastpitch team. Teammate Sadelle Arevalo was named most improved player. Jessica Cruz was named the team captain and Marina Martinez was recognized as having the best bat. Kasi Guillen got the best glove award.
In golf, Justin Bos was named most improved and given the MVP award for the boys, and Emily Shuttleworth got the nod for most improved on the girls team. Dacia Drollinger was named MVP.
Yanet Candido was given the inspirational award for girls track. Fatima Ruelas received the coaches award while Claire Schilperoort was named most improved athlete. Christy Linde took home the outstanding performer award for girls track.
In boys track, Gilberto Villalobos got the inspirational award. Jaime Sambrano got the most improved athlete nod. Casey Smith received the coaches award and Andrew Gonzales was named outstanding performer.
In baseball, Lucas Ramos was named captain. Joel Zakahi was named MVP and Tim Brionnes got the most improved player award. Cole Boboth took home the inspirational award and Eric Estes received the coaches award.
Hunter Van de Graaf received the inspirational award for boys tennis and Danny Plesha was named MVP. In girls tennis, Jessica Gudino received the inspirational award and Jerika Martinez was recognized as the MVP.
Miguel Galvan was given the inspirational award and the coaches award in soccer. Alex Aguilar was named most improved player and Luis Perez got the captain's nod. Silvano Ramos was named MVP.
Scholar athlete awards were also given out on Tuesday night. Brian Galvan received a patch for varsity soccer and Andres Vargas got a patch for JV soccer. Capri Miles received a pin in girls varsity tennis and Cindy Gudino was awarded a patch for girls JV tennis. Danny Plesha received a pin in boys varsity tennis and Jacob Brandvold got a pin for boys JV tennis. In girls track, Megan Tyler got a pin and Jacob Rogers received a patch while Sterling Scott got a pin in boys track. In fastpitch, Victoria Ramos got a patch for varsity, Melissa Stamschror got a pin in JV fastpitch and Kelsey Rollinger received a pin in c-squad fastpitch. Ryan Engel received a pin for varsity baseball. Tristan Abbott got a pin for JV baseball and Oscar Torres got his patch for the c-team.