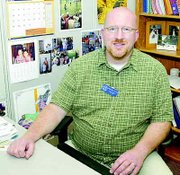 David Teske was just trying to fill up his schedule to fulfill his AA degree requirements when he took a Nutrition 101 class at Yakima Valley Community College. It was this class that would change the direction Teske would take for a career.
"I liked the class so I decided to go in that direction," Teske says.
The professor he was taking the class from knew the nutrition professors at Central Washington University, so he got hooked up with them and decided to major in nutrition.
On his way to his degree he had to navigate himself through classes like food sciences, food service systems management, business, economics and a slew of science classes.
Teske moved to the Lower Valley with his parents when he was four years old. He went to the area schools and worked in the orchards as he was growing up. After he completed his studies at CWU Teske went and interned at Oregon Health Sciences University in Portland.
"I spent 10 months in the internship doing a combo of classroom study and on-the-job training," he says.
After his training he was certified as a registered dietitian. He started working at Yakima Neighborhood Health in 1991 and came to the Sunnyside office seven years ago.
Teske's job is a combination of counseling and managing the WIC staff. He counsels people on why they are coming to Yakima Neighborhood Health and addresses their problems. It could be mothers on WIC or kids who need special dietary needs.
WIC stands for women, infants and children. Along with this program Teske also oversees maternity support services. This service gives pregnant women advice on nutrition, child birth education, breast feeding classes and lactation consulting.
WIC services give food to families to help ensure the nutritional needs of children and women who are pregnant or breast feeding. Eggs, cheese, mild cereal, juice and peanut butter or lentils or given to the client. Breast-feeding moms also get tuna and carrots to help ensure proper nutrition.
"This helps supplement the mother's and the baby's needs," Teske said.
WIC is a federal program with the dollars given out to the individual states. The states then distribute the money.
He said the clinic also plans to start offering dental services at the end of this year.
Teske enjoys what he does. "I get to work with a lot of different people," he said. "It's exciting to see people interested in what I say. Every parent wants to do the best for their child and being able to help them do that is very rewarding."
He also adds that working in such a small office can be lots of fun because everyone knows each other so well.
The only thing he doesn't really like is the mountain of paperwork some programs require. "Sometimes they can take too much time and seem a little redundant," he added.
Another little peeve he has is his commute. Teske and his family live in Yakima, as do his parents and his wife's. "With gas prices the way they are the commute isn't as easy as it used to be."