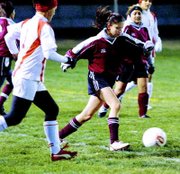 PROSSER - On a freezing Halloween night the Grandview Greyhounds and the Prosser Mustangs met in a loser-out CWAC District playoff game with the Mustangs coming out on top and advancing in the playoffs, 5-1.
At the start of the second half Prosser held a 3-0 advantage. The Greyhounds got on the scoreboard when Susana Sanchez scored in the 50th minute off an assist by Anna George.
"Anna did an awesome job," Assistant Coach Ronda Penwell said. "We tried to match her up with Prosser's Jordan Brown."
Penwell said Brown has been a leading scorer this season for the Mustangs. Penwell said Brown did score in last night's game but not when George was guarding her.
With the score 3-1 in Prosser's favor, the Mustangs added two more goals in the bottom of the second half.
Penwell said the three freshman players on the team did a good job.
"Sarah Caskey, Annie Cambron and Vannessa Gamboa did a good job for us," she said. "It's exciting to see them do well and we're looking forward to seeing them next year."
She added the seniors on the team played their hearts out for the Greyhounds.
With Grandview's season over with, the Greyhounds finish with a 3-10 league record and 3-14 overall.