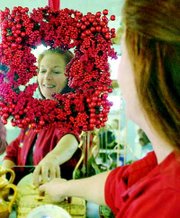 At the age of 50, Diane Lyczewski of Sunnyside experienced a crucial change in her life.
"A couple of years I found myself in a situation at 50 years old where I was in a chaotic state," she recalls. "I had just become unemployed so I did a little soul searching."
Now 52, Lyczewski said she decided at that moment she would do the kind of work she wanted for the rest of her life.
That work, as it turns out, is floral and decorative designing.
For about a year now, Lyczewski has been a designer for Morris Floral and Gifts in downtown Sunnyside.
"I like it," she says of her chosen profession. "There's something new and different every day."
Lyczewski's work reflects the changing seasons.
Fall, as it turns out, is her favorite.
"I just like the season, I love the colors," she says.
Those colors are reflected in the window and store displays that Lyczewski assembles, with bright hues of red and orange.
"I think that's what's fun about this is coming up with creative ideas for window displays for each season," she says.
It's probably one of her favorite parts of the job, but one of the most challenging as well.
During the fall, for example, the colors are popular in all forms of displays, ranging from birthday to thank you to funeral arrangements.
Another part of the job she relishes is being the one to open freshly delivered boxes of floral decorations and display items.
"It's like Christmas every week," she laughs.
Speaking of Christmas, it may soon begin looking a lot like Christmas at the floral shop.
"We're already getting packages of Christmas decorations," Lyczewski smiled. "The day after Halloween it'll get crazy around here."
Compared to that period of chaos she experienced, a little bit of colorful craziness makes life and work fun for Lyczewski.
"We start early and just keep working at it," she laughed in describing the group effort required to meet the changing colors of a changing season. " It takes teamwork."