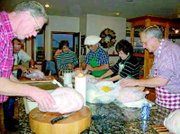 Just in time for Thanksgiving, a group of local residents got together to learn how to de-bone a turkey and, in the process, raise $600 for the Sunnyside Community Hospital emergency department expansion.
The fund raising, or "fun raising" event, was held by the sisters of the Perceptor Gamma Phi Chapter of Beta Sigma Phi.
Members and their husbands gathered at the home of Mary and Ed Werkhoven to learn the art of de-boning a turkey in preparation for the Thanksgiving holiday.
Bill Flower, Development Director of Sunnyside Community Hospital Foundation, was the teacher-mentor demonstrating and coaching the method of removing bones from the turkey and preparing the bird for the oven.
The object is to remove the body bones from the carcass of the turkey before roasting. This makes carving the bird at the table easy and eliminates after-dinner clean up.
Flower added that the preparation makes the turkey wishbone ready for making a wish at the Thanksgiving table.