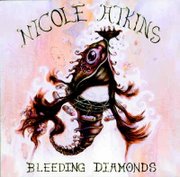 Those appreciating show-tunes will delight in Nicole Atkins CD, "Bleeding Diamonds."
If you're into just about any other style of music, this isn't your thing.
Each and every one of the songs sounds the same, as does Atkins' voice. She has no wide range in her voice and consistently hits the same notes in her melodies. Many of the notes are flat, and flat notes only do well in punk music--a far cry from her style.
The songs sound as though they should be part of a cabaret act. The third track, Carousel, is the perfect example of this. It's a song you'd expect to hear on stage in Broadway, perhaps with a play with the same title. In fact, she claims it was inspired by her love of musicals like The Fantasticks and Celebration.
Her lyrics are often dark, violent and depressing. I'd love to share them with you, but they weren't included in the CD's sleeve.
I can tell you that the title track, Bleeding Diamonds, was inspired by the Iraq war, according to Atkins, who, in the song, pretends to be a woman waiting for the return of a loved one.
Atkins has one style, and it's called same old, same old.
It's not that Atkins won't be successful. I just recommend that she work with different writers, musicians and varieties to make her mark in the music industry.
Atkins recorded the CD with her band The Sea. Her history includes playing solo in countless bars of New Jersey and New York. She's now considered a seasoned veteran of the NYC anti-folk scene, which I find surprising because folk artist was the term that came to mind just prior to cabaret.