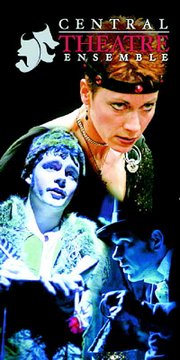 ELLENSBURG - The 2006-07 CWU Central Theatre Ensemble season opens next Thursday, Nov. 9, with Hard Times, adapted from the Charles Dickens novel.
Performances will run Nov 9-11 and Nov. 16-19 at CWU's McConnell Auditorium.
The ensemble, a production wing of CWU's Theatre Arts Department, will open 2007 with the world premiere of Blankity-Blank! Jan. 25-27 and Feb. 1-4 in the Milo Smith Tower Theatre.
Also in February, the ensemble will present the Kennedy Center American College Theatre Festival. The program, running from Feb 19-23, will feature regional college theatre presentations.
Next up beginning March 8 is Student Innovations, an original one-act festival of work by Dr. Betty Evans. The show runs until March 11 in the Milo Smith Tower Theatre.
A youth theatre tour titled Pecos Bill and the Ghost Stampede will grace CWU's McConnell Auditorium stage April 19-22.
The series concludes May 10-12 and 17-20 with Oscar Wilde's The Importance of Being Earnest.
Evening and matinee performances are available for each of the ensemble's shows.
Evening performances begin at 7 p.m. and matinees start at 2 p.m.
The Central Theatre Ensemble will also feature various studio projects, including readers' theatre, student productions and play readings throughout the season.
For more information on the 2006-07 season, including ticket prices, call 509-963-1774 or 509-963-1732.
Information is also available at www.cwu.edu/~theatre.